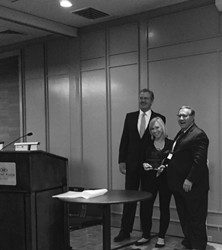 Lori is certainly deserving of this corporate award. Lori is 110% dedicated to our clients and her co-workers, and we're lucky to have her at our company.
Billings, Montana (PRWEB) October 15, 2015
Avitus Group Executives announced the winner of the 2015 Michael Welsh Excellent Service Award at the company's annual fall conference in Billings, Montana this October. Avitus Group payroll employee, Lori Molodecki is the 2015 recipient of the award and receives company recognition, an engraved award and $1500.00 as a thank you for her excellent service and dedication to the company and its clients. Molodecki has worked at Avitus Group for 8+ years and has been promoted 4 times. Two additional finalists, Avitus Group Bookkeeper, Lorna Paulson, and Payroll Inception Team Member, Chansie Van Dyke, were recognized and awarded cash. Paulson and Van Dyke are both past recipients of the company's Employee of the Quarter Award. Molodecki is also the recipient of the most recent, 4th quarter, employee of the quarter award. She received the award as part of Avitus Group's Payroll Inception Team, which received the award as a group. Van Dyke is also part of the Payroll Inception Team.
The Michael Welsh Excellent Service Award is a highly coveted corporate award given annually. The award is given to recognize a current Avitus Group staff member who has consistently achieved the high standards of the company's "Excellent Service" program throughout the year, as exemplified by the staff member for whom the award is named. The Award is named after Michael "Mike" Welsh, a long time Avitus Group staff member who assisted in developing the company's formal "Excellent Service" program.
"Mike was such a good guy and such a joy to work with. He was a true professional on our Risk Management team. Customer service was his number one priority. Mike was the perfect example of how to practice "Excellent Service" consistently as part of his everyday work. Sadly, he passed away in the spring of 2013 after battling cancer. This Award was established in his honor and in his memory. Mike was the first recipient of this award which was given posthumously in October of 2013. Tara Gates received the award in 2014 and this year, Lori Molodecki is certainly deserving of this corporate award. Lori is 110% dedicated to our clients and her co-workers, and we're lucky to have her at our company," says Avitus Group, Inc. President, Don Reile.
"He was thorough and accurate and he wanted to be those things. In the end, that is why we have the Michael Welsh award. Mike had compassion for the employees to get healthy and back to work. He also made sure that those who were pushing the limits or abusing the system were held accountable," commented Avitus Group's Human Resource & Risk Management Director, Ryan Braley.
"We had a client in California where an employee fell 18 feet through an opening in the ceiling. Mike was actually on the phone with the hospital before the ambulance got there to make sure they knew that we (Avitus Group) were taking care of it, it was worker's comp, and the family was not to be bothered. That's the kind of service he provided. He was a valuable asset to us and our Risk Management Team misses him," commented Avitus Group Risk Assessment Specialist, Dennis Waldron.
"If you want to sum Mike up in a word, it is humble. I really have a fond memory of him and I miss him," says Avitus Group Business Services, Inc. President and Avitus Group Payroll Services, Inc. President, Ken Balster
"I've worked for this company for a long time, and I have always appreciated the recognition by my superiors in the form of promotions. To be nominated and selected for an award that was created for such an amazing person and employee, Mike Welsh, is such an honor. It is a great reminder of why I come to work every day," commented 2015 Michael Welsh Excellent Service Award Recipient, Lori Molodecki.
Molodecki's nominations pointed to her strong work ethic, giving spirit and willingness to come in early, stay late and even work on the weekends, and always with a smile. Several nominations stated that Lori is an employee that other employees look up to and strive to be like. Her co-workers also stated that they believe she has deserved every promotion she has received, and they are happy for her success.
Avitus Group is a worldwide company. Avitus Group simplifies, strengthens and grows businesses by providing 'back office' support. Things like bookkeeping, taxes, payroll, IT, marketing and much more. When businesses use Avitus Group, all of the necessary yet burdensome functions of the business become Avitus Group's responsibility so the business can focus on what they do best. Avitus Group serves clients nationwide through regional office locations from coast to coast. The company also serves international clients through partner locations in Europe, Canada, China, England, India, Japan and Singapore.