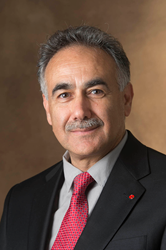 Edwardsville, Ill. (PRWEB) October 09, 2015
Southern Illinois University Edwardsville will join the Association of American Colleges and Universities (AAC&U) LEAP Challenge case study project.
The LEAP (Liberal Education and America's Promise) challenge is about preparing students to advance their learning by solving complex problems through high-impact practices such as research, collaborative projects and experiential learning. Participating institutions will work with the AAC&U to develop a set of case studies underscoring how they are addressing the LEAP challenge.
"SIUE's general education reform was formed by the LEAP initiative," said Parviz Ansari, SIUE provost and vice chancellor for academic affairs. "Our senior assignment, and elements of our curriculum and assessment philosophy are in alignment with the LEAP goals."
Students are to engage in signature work that will prepare them to integrate and apply their learning to a significant project with meaning to the student and society.
SIUE and 12 other institutions will be featured as LEAP Challenge case studies, including:

Bard College
Case Western Reserve University
DePaul University
Hampshire College
LaGuardia Community College/City University of New York
Luther College
Portland State University
Salt Lake Community College
Santa Clara University
University of Wisconsin – Oshkosh
Wagner College
Worcester Polytechnic Institute
Ansari and Associate Provost Denise Cobb will participate in the project meeting and attend the Symposium on LEAP Challenge and the Equity Imperative during January 2016.
The LEAP Challenge
LEAP responds to the changing demands of the 21st century - demands for more college-educated workers and more engaged and informed citizens. Today, and in the future, college graduates need higher levels of learning and knowledge as well as strong intellectual and practical skills to navigate this more demanding environment successfully and responsibly. LEAP challenges the traditional practice of providing liberal education to some students and narrow training to others. The LEAP Challenge is designed to flexibly allow all students, whatever their institution or chosen field, to gain this blended model of liberal education and the outcomes so important for success and well being in today's world.
SIUE
Southern Illinois University Edwardsville provides students with a high quality, affordable education that prepares them for successful careers and lives of purpose. Built on the foundation of a broad-based liberal education, and enhanced by hands-on research and real-world experiences, the academic preparation SIUE students receive equips them to thrive in the global marketplace and make our communities better places to live. Situated on 2,660 acres of beautiful woodland atop the bluffs overlooking the natural beauty of the Mississippi River's rich bottomland and only a short drive from downtown St. Louis, the SIUE campus is home to a diverse student body of more than 14,000.