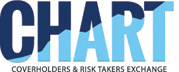 CHART was established to facilitate open dialogue among London risk takers, existing coverholders and U.S.-based insurance agencies.
Philadelphia, Pa. (PRWEB) October 12, 2015
More than 300 insurance professionals representing every facet of the insurance transaction are meeting at the inaugural CHART (Cover Holders And Risk Takers)-Exchange, a forum designed to identify new business opportunities within the U.S./London market. The event runs October 12-14 at the Pennsylvania Convention Center.
"CHART was established to facilitate open dialogue among London risk takers, existing coverholders and U.S.-based insurance agencies. The goal is to bring together these decision makers to develop ideas and products, establish new relationships and promote peer-to-peer networking," said Glenn Clark, CPCU, owner and president, Rockwood Programs and "earliest adopter" of the CHART-Exchange. "We are excited about attendees exploring new business opportunities, interacting with each other and expanding their skill-set in our informative workshops."
Mark Cloutier, CEO of Brit PLC and a member of the Lloyd's of London Franchise Board will address the theme of the event – "Interdependence." Mark has been the CEO of Brit since October 2011 and has more than 35 years' experience working in the international insurance and reinsurance sector. In keeping with this theme, all of the CHART-Exchange attendees will sign a ceremonial "Declaration of Interdependence."
CHART attendees include risk takers from a number of Lloyd's syndicates, U.S. coverholders (companies authorized to write contracts on behalf of Lloyd's), domestic insurance agencies and vendor partners.
Among the notable attendees at this year's event are Iris Insurance Brokers Ltd, BRIT PLC, Aegis, Ark Underwriting, Novae Group, DTW1991 and C.J. Coleman. Other participants include several nationally-recognized vendors supporting the insurance industry, such as Wilson Elser, York Risk Services Group, Midlands Management Company, ProgramBusiness (Neilson Marketing Services), PLCommunications and NSM Insurance Group.
CHART-Exchange Agenda
CHART-Exchange features dynamic speakers, panel discussions and more than 40 workshops to initiate dialogue and information-sharing between Lloyd's syndicates and coverholders on insurance-related issues. Breakout sessions will address topics including regulatory compliance, the Lloyd's coverholder appointment process, marketing and social media, standard and surplus lines licensing, technology and new product submission strategies.
A "Shark Tank" Competition (known as the "Dragon's Den" in the U.K.) will give attendees an opportunity to submit new product ideas for a chance to win $10,000 in funding. The event is sponsored by Iris Insurance Brokers Ltd, a London-based specialty program broker that works with existing, new and potential coverholders to develop and place business with Lloyd's syndicates.
Click here to see the meeting agenda.
Lloyd's provides specialized coverage for complex risks not typically provided through normal channels, and is the No. 1 excess and surplus lines insurer and reinsurer in the United States. Almost 40 percent of Lloyd's global business comes from the U.S., accounting for $14.6 billion in premiums last year.
For more information, visit http://www.chart-exchange.com.