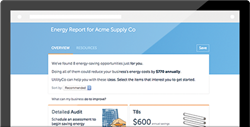 Working with EnergySavvy enables us to further enhance our outreach and engagement with New England's small and midsize businesses.
Seattle, WA (PRWEB) October 13, 2015
Small and midsize businesses account for more than 90% of American companies, consume about 20% of the nation's energy, but attract less than 4% of utility energy efficiency spending nationwide according to E Source. And a recent Accenture study showed that while 9 out of 10 businesses want more tailored products and services from their utility, just 35% say they're getting it.
Why? Small and midsize businesses have often been challenging for utilities to serve: too numerous for dedicated account managers but too unique for standard mass-market outreach.
EnergySavvy announces Optix Engage for Business, a digital engagement solution that connects small and midsize businesses with the right utility customer programs and offerings.
EnergySavvy has worked with hundreds of businesses in an effort to build a solution that addresses their specific needs. Engage for Business supports more than 2,300 business types with a tailored experience. In Massachusetts and Rhode Island, National Grid is supplementing its award-winning small business programs with Engage for Business, achieving early success. About 60% of business customers who start the audit complete it, and 36% convert to utility program leads.
"National Grid has made significant commitments to help our customers save money and energy," said Ezra McCarthy, Lead Analyst, C&I EE Program Strategy at National Grid U.S. "Working with EnergySavvy enables us to further enhance our outreach and engagement with New England's small and midsize businesses. The solution is easy, intuitive, and directs our business customers to a personalized set of money-saving opportunities based on their unique business type and premise."
Engage for Business is seamlessly integrated into EnergySavvy's Optix Platform, enabling utilities to benefit from the full suite of engagement, program automation and continuous savings measurement solutions.
"We've figured out over the last five years how to make home energy audits work for everyday people. This is all about making it easy for small business owners," said Aaron Goldfeder, CEO of EnergySavvy. "Our passion is to deliver great customer experiences, drive action that improves the utility-customer relationship, and unlock data-driven insights to enable the utility of the future."
About EnergySavvy
EnergySavvy is a leader in enterprise cloud software for the utility industry. Its Optix Platform drives customer intelligence, engagement and action through modern customer-centric software products and services. Over 25 utilities use Optix to deepen customer relationships and increase control, transparency, and agility within their customer operations. Learn more at http://www.energysavvy.com.
About National Grid
National Grid (LSE: NG; NYSE: NGG) is an electricity and natural gas delivery company that connects nearly 7 million customers to vital energy sources through its networks in New York, Massachusetts and Rhode Island. It is the largest distributor of natural gas in the Northeast. National Grid also operates the systems that deliver gas and electricity across Great Britain.
Through its U.S. Connect21 strategy, National Grid is transforming its electricity and natural gas networks to support the 21st century digital economy with smarter, cleaner, and more resilient energy solutions. Connect21 is vital to our communities' long-term economic and environmental health and aligns with regulatory initiatives in New York (REV: Reforming the Energy Vision) and Massachusetts (Grid Modernization).
For more information please visit our website: http://www.nationalgridus.com, or our Connecting website. You can also follow us on Twitter, watch us on You Tube, like us on Facebook and find our photos on Instagram.