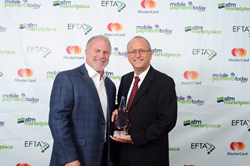 ZipLine is actively doing what many providers are still only talking about.
Coconut Creek, FL (PRWEB) October 09, 2015
ZipLine™, a leading provider of mobile and card-based merchant branded payment (ACH) solutions, recently gained industry accolades for its cutting-edge mobile payments technology.
ZipLine received the Most Innovative Mobile Technology award from Networld Media Group at the company's annual ATM & Mobile Innovation Summit last month in Washington, D.C.
ZipLine's 'mPay' mobile solutions platform is a low-cost payment program built on the existing architecture used for merchant branded debit cards. ZipLine's flexibility to adapt and interface to various point of sale (POS) systems and networks was recognized as a high-value technology for retail merchants—and an important tool to the fuel industry.
The panel of six judges included editors from Networld Media Group's ATM Marketplace and Mobile Payments Today, as well as industry analysts and consultants. Commenting on the importance of mPay, one judge said: "As one of the first in the space to offer this capability to fuel retailers, ZipLine is actively doing what many providers are still only talking about."
Using mPay, a merchant can develop their own mobile app encompassing features and functionality specific to the retailer, or, utilize a white-label mobile app supplied by ZipLine. Methods of mobile payment supported include: Integrated 3rd party solutions, QR code, Unique Token, location by GPS and Dispenser, and ZipLine's recently patented 'ME' mobile technology.
These methods, when coupled with ACH, proprietary or major card brands, make ZipLine a very flexible mobile provider.
"We are very gratified to see our innovative technology recognized in this way," said ZipLine CIO Danny Portal. "Equally gratifying is the validation by our merchants and consumers exhibited through their widespread adoption of our platforms and products."
ZipLine will be showcasing its award-winning mPay technology at the National Association of Convenience Stores (NACS) show next week in Las Vegas. Visit ZipLine at the show in booth #5108.
About ZipLine
ZipLine, formerly National Payment Card Association (NPCA), pioneered decoupled debit and developed and manages some of the most successful decoupled debit programs in the United States. The company's mission is to provide low-cost, merchant friendly, data-rich, secure payment solutions and services that deliver compelling value to merchants and consumers. For further information about ZipLine, visit the company's website at: http://www.ZipLine.biz
About Networld Media Group
Networld Media Group is a leading business-to-business (B2B) media communications company specializing in digital media, associations and events in the mobile, self-service, digital signage, retail, food service and financial services industries. Online properties include ATMmarketplace.com, DigitalSignageToday.com, FastCasual.com, PizzaMarketplace.com, KioskMarketplace.com, MobilePaymentsToday.com, VirtualCurrencyToday.com, QSRweb.com, RetailCustomerExperience.com and ChurchCentral.com.