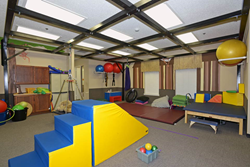 We don't ever want parents to feel alone in their search for proper care.
DALLAS, Texas (PRWEB) October 13, 2015
In an ongoing effort to provide the most comprehensive treatment possible for children with autism, PediaPlex, a Southlake, Texas, child development and pediatric therapy center, is working with TRICARE to emphasize the value of ABA Therapy and educating military families about their options for receiving this kind of care for affected children. Because of concerns raised by military families in particular regarding insurance coverage, PediaPlex professionals have begun an educational campaign about the necessity for ABA treatment in conjunction with other therapies in autism treatment.
What Is ABA Therapy (Applied Behavior Analysis)?
ABA therapy is an evidence-based treatment that focuses on improving desired behaviors, such as following instructions and using developmentally appropriate communication skills. The ultimate goal of Applied Behavior Analysis is to increase children's independence by motivating them to learn how to accomplish new tasks. Used in conjunction with speech therapy, occupational therapy and individual counseling sessions, ABA with a board-certified behavior analyst can improve the overall quality of life for children on the autism spectrum. PediaPlex, which has built a solid reputation on providing a multi-disciplinary approach to pediatric treatment in one location, offers ABA programs throughout the week in morning and afternoon sessions. Various time options accommodate the schedules of working parents, who take part in the therapeutic process in order to help their children at home and in community environments.
The PediaPlex staff is particularly sensitive to needs of parents who fear that their insurance will not cover the treatment needed for their children.
"We don't ever want parents to feel alone in their search for proper care," Sonia Kirkpatrick, CEO of PediaPlex explains. "We also want each child to receive the level of care needed. We have staff available to work with parents in understanding their insurance policies. We review their coverage with them so they understand what is included and what they may have to pay out of pocket. We also are working actively with insurance companies to help them understand what ABA therapy is and why it is a necessary part of treatment. We do regular evaluations to make sure that we are using the most effective methods possible and to assure that insurance companies accept the treatment justifications."
Military families require particular attention because moves and deployment can have consequences on their child's behavior and development. Family stress, new schools and other issues connected with relocation can cause regression. PediaPlex officials want to help inform insurance companies about the possible need for intervention and support at any time. They also want to reassure parents that treatment is available as needed to keep children at a functioning level.
Additional information about PediaPlex, ABA therapy and accepted insurance coverage is available at http://pediaplex.net/aba-therapy/.
About PediaPlex: PediaPlex, located at 2425 East Southlake Boulevard, Southlake, Texas, provides collaborative care under one roof to meet pediatric medical needs. The professional staff works together to assess a child's needs, establish goals and coordinate services. The medical staff also works closely with schools and other therapy professionals. Call (866) 672-4688 for more information.