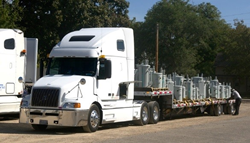 "Solomon Corporation is proud and privileged to be a part of this emergency power restoration effort," Tom Hemmer CEO said. "Our hearts go out to the people of Saipan, and we hope our efforts contribute in some small way to getting lives back to normal."
Solomon, Kansas (PRWEB) October 09, 2015
Joint Response Efforts
Over the past ten days, Solomon Corporation employees have been working overtime to rebuild the first 180 of the 486 manufactured rewound polemount transformers destined for Saipan. Employees will continue to rebuild 100 transformers a week until the order of 486 is filled. On Oct. 8, Solomon Corporation delivered the first shipment of transformers to FEMA for transport to Saipan. The installation efforts of the Commonwealth Utility Corporation will begin the process of returning power to the island's 55,000 residents for the first time since early August. This is the largest order of polemount transformers in the company's 44-year history.
The catastrophic super typhoon Soudelor knocked out power to the islands residents and flooded the state utility's power plant when the eye of the storm passed over Saipan. Soudelor produced sustained winds of 180-220 mph. Soudelor, considered the strongest storm on Earth to date this year, left most of the area without power, according to The Weather Channel.
"Solomon Corporation is proud and privileged to be a part of this emergency power restoration effort," Tom Hemmer CEO said. "Our hearts go out to the people of Saipan, and we hope our efforts contribute in some small way to getting lives back to normal."
About Solomon Corporation
Solomon Corporation is a leading provider of repair, rebuild, and salvage services for electrical transformers and related oil-filled equipment. Founded in 1971, the company serves investor-owned, municipal and cooperative utilities, as well as industrial owners of electrical equipment throughout the U.S. Solomon Corporation's market leadership is driven by its scale, breadth of services, long-standing customer relationships and consistent track record of dependable service. Solomon Corporation employs approximately 500 people and operates facilities in four states.
For more information about Solomon Corporation, please visit the Solomon Corporation website at http://www.solomoncorp.com or call (800) 234-2867 to speak with a representative.