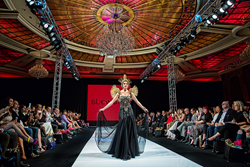 Los Angeles, CA (PRWEB) October 09, 2015
Celebrity fashion designer Sue Wong epitomized the spirit of Fashion in a hypnotizing extravaganza of beauty and seduction, mesmerizing the audience with her ALCHEMY & MASQUERADE Spring 2016 Collection, which opened Art Hearts Fashion LA Fashion Week at the Taglyan complex in Hollywood. The exclusive, sold-out (over 1,000 people) event hosted celebrities, media, press, stylists, and fashion editors; as well as Sue's many friends in Art, Music and Entertainment.
"Sex and the City" British actor Max Ryan introduced the much anticipated runway show. Sue Wong was honored with two recognitions: an award from the California State Assembly, celebrating her excellence in Fashion and the world of Design as well as a special Lifetime Achievement Award presented by His and Her Royal Highnesses Prince Waldemar and Princess Dr. Antonia Schaumburg-Lippe. Their son HH Dr. Prince Mario-Max Schaumburg-Lippe – a multi award-winning actor and entertainer – welcomed the audience into the world of ALCHEMY & MASQUERADE with his enigmatic dance performance. Popera singer Michael Peer closed the show with his compelling performance of "Phantom of the Opera". Rockers Chris Pitman (Guns N' Roses), Ralph Rieckermann (Scorpions) and many celebrities, including Briana Evigan (Lead actress in Step Up 2), Keisha Castle-Hughes (Game of Thrones), Ariane Andrew (E! Total Divas), Shawn and Claire Buitendorp (E! Total Divas, VH1 #Twinning), Alice Amter (Big Bang Theory), Rena Owen (The Last Witch Hunter), and Cody Saintgnue (MTV's Teen Wolf), attended.
The SUE WONG runway included celebrity guest models Eugenia Kuzmina, Blanca Blanco and Katie Cleary, who electrified the audience, articulating the message of allure, glamour and feminine beauty. The mystique of Alchemy is an aspect synonymous to the SUE WONG signature.
Headdresses and fashion constructions by Rocky Gathercole – For the Stars Fashion House infused the SUE WONG runway with an artful edginess. Maritza Regalado, Atzi Designs; What a Betty, Betty Long; and Kicka Custom Design richly enhanced the breathtaking gowns with dazzling headdresses in a dramatic vision of beauty, creating a rare hybrid Collection. The statement jewelry of Vilaiwan designed by the talented Joe Polthakorn and handbags by Mary Frances, completed the SUE WONG look. Sue Wong's Spring 2016 Collection takes her signature bead-work, embroidery and hand-wrought couture techniques to unprecedented heights, unveiling an astonishing fashion canvas weaving Classic-romanticism juxtaposed with Avant-Garde edginess into riveting beauty.
Every SUE WONG gown is poetry choreographed between Alchemy and Masquerade, a symphony of dark drama and transcending light – as Sue insightfully shares: "The real power and alchemy comes from within one's true self. Does it wear you, or do you wear it?" This applies to her Spring 2016 Collection itself – the embodiment of Fashion, celebrating every woman – from exhilarating cutting edge to classic romantic elegance.
ABOUT SUE WONG
Los Angeles designer Sue Wong is known for dazzling fashionistas with her couture techniques and glamorous signature style, combining the allure and elegance of iconic bygone eras with a modern sensibility to create timeless works of art. Distinguished by the impeccable quality of traditional couture dress making, her designs are steeped in romance and mystery while being thoroughly modern and accessible to women everywhere. Sue continues to forge new ground in defining fashion that transcends generations and boundaries even as she creates masterpieces of passion and desire expressed through inimitable style. She has dressed countless celebrities including Anne Hathaway, Jessica Biel, Minnie Driver and Taylor Swift. SUE WONG is available nationwide at specialty boutiques, major department stores including Neiman Marcus, Saks Fifth Avenue, Nordstrom, Bloomingdale's, Lord & Taylor, Macy's and internationally in over 27 countries.