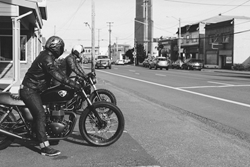 "We're proud to have the opportunity to bring the community together city by city to raise awareness for such a great cause."
Minneapolis, MN (PRWEB) October 09, 2015
CROIG X BC Mad Max-Themed Triumph Custom Motorcycle Giveaway for Charity
CROIG, famously known on Instagram as @CafeRacersOfInstagram, has embarked on their third tour along the East Coast to meet with followers and members of the motorcycle community to raise awareness for the Riders for Health charity. The custom motorcycle that CROIG will be riding on the tour will be given away to one lucky winner to help raise awareness and benefit Riders for Health. The tour is part of CROIG's new Weekend Projects campaign, an initiative to put customizing motorcycles back in the hands of the average rider and a platform to raise awareness for Riders for Health.
In sub-Saharan Africa, more than 60% of people live in hard-to-reach rural communities, making accessibility to medical services and supplies almost impossible. But Riders for Health has found a solution: They outfit health professionals with motorcycles and other vehicles capable of reaching those communities, ensuring they can deliver the medical services and supplies directly and reliably.
"We're proud to have the opportunity to bring the community together city by city to raise awareness for such a great cause," said David Chang, one of CROIG's co-founders. "And we're excited to get to share our passion for building motorcycles with people, to show people that it really isn't that hard to customize a motorcycle yourself with some bolt-on parts."
To bring the community together to support Riders for Health's cause, industry-leading brands GoPro, British Customs, and Simpson Helmets, and innovators Stance, Abel Brown, Saint, RAEN, Thursday Boots, and Hagon Shocks, have teamed up to create awareness for Riders for Health charity through product giveaways including a one-of-a-kind Mad Max-themed CROIG X BC Edition 2015 Triumph Bonneville.
What's unique about the tour is that CROIG will be meeting with community members and followers along the way to help raise awareness for the charity, and will also be customizing the bike on the road at various local motorcycle garages during several of their stops. In Atlanta, they're going to visit and do some wrenching at Brother Moto, a DIY motorcycle co-op and coffee shop dedicated to providing a space and tools for members of the motorcycle community to work on their motorcycles. The spirit of this aspect of the tour seeks to revitalize the heritage of motorcycle riders working on and personalizing their own motorcycles with their own tools.
How the motorcycle is being built system-by-system will be published over eight weeks on the British Customs blog in their Weekend Projects series to show how easy personalizing a motorcycle really is.
This year, CROIG will tour from Minneapolis down to Orlando, up to Boston, over to Chicago, and back to Minneapolis, visiting many major cities along the way, through October into the beginning of November. The dates and locations are below.
10.09 - BIRMINGHAM, AL
10.11 - ATLANTA, GA
10.14 - ORLANDO, FL
10.17 - SAVANNAH, GA
10.19 - RALEIGH, NC
10.21 - WASHINGTON DC
10.22 - BALTIMORE, MD
10.25 - NEW YORK, NY
10.28 - BOSTON, MA
10.29 - MANCHESTER, NH
11.01 - NIAGARA FALLS
11.02 - DETROIT, MI
11.03 - GOSHEN, IN
11.04 - CHICAGO, IL
Donate and register to win at British Customs' website.
For more information on the CROIG tour, visit CROIG's website.
About CROIG:
CROIG, known on Instagram as @CafeRacersOfInstagram, is a leading voice of the retro motorcycle enthusiast community. CROIG consists of Andrew Blaschko and David Chang, who believe that "your freest self is your truest self."
About Riders for Health:
Riders for Health is a social enterprise and registered charity that manages and maintains vehicles for health-focused partners in eight countries in sub-Saharan Africa. They work with ministries of health and other, smaller community-based organizations to help manage two- and four-wheeled vehicles of outreach health workers, allowing them to reach rural villages. Riders provides maintenance and management of these vehicles, and training for health workers in safe riding and driving.
About British Customs:
British Customs is a Southern California-based lifestyle brand and designer of aftermarket motorcycle parts. They are known for making the highest quality factory-spec bolt-on parts that only require common tools and minimal technical knowledge to install. With any of their parts upgrades, the average rider can completely customize his or her motorcycle in a weekend.