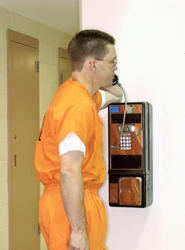 NCIC is excited about new growth opportunities in Alabama.
Longview, Tx (PRWEB) October 09, 2015
NCIC Inmate Phone Services Inc. is pleased to announce it provided the winning bid in the recent Request for Proposal distributed by Shelby County, Alabama for inmate telephone and video visitation services. Shelby County has been a customer of NCIC for approximately three years and has been a great reference, as it is one of the largest, and most respected counties in the state of Alabama. The staff at the Shelby County sheriffs Office has been very supportive of our efforts to help the Alabama Public Service Commission (APSC) regulate inmate telephone rates and fees in the state of Alabama, by demanding that their rates be decreased to the proposed rates, a year before the APSC issued their order reducing the fees and rates that inmate phone providers can charge.
On top of fairness to their inmates regarding rates and fees, the county also has consistently sought out new technologies, and has served as our Beta Site for our funding kiosks, our inmate voicemail system and our video visitation system. Due to our participation in the recent FCC inmate phone regulation proceedings, many counties in Alabama have contacted us in order to provide our cutting-edge technologies in their jails.
NCIC currently provides services in over 40% of the jails in the state of Alabama and is looking forward to more growth there in 2016.