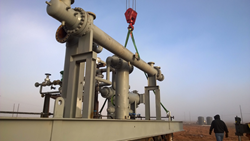 For 30 years now we have continuously refined the engineering and manufacturing process… but that has little to do with our success thriving during many market downturns in the Permian basin and in the industry...
Midland, TX (PRWEB) October 09, 2015
With the recent downturn in commodities like oil and gas, issues like product quality, human resources, customer service, business diversification, even marketing, are coming into sharp focus for sectors such as natural gas processing and plant manufacturing. Oil & gas equipment, plant and service providers are essentially wrestling for sustainability during an industry "shakeout", even in the Permian Basin, the last actively producing region in the U.S. Yet one Permian Basin supplier stands as a stark example of those who have hardened themselves to market fluctuations from the inside out.
Agile Process Solutions, LLC, was built from the beginning to thrive in a business atmosphere which is today driving many less prepared companies not only out of the region, but out of business. Company leadership is planning to attend the 2016 GPA Conference in New Orleans, and while business is looking relatively good despite the downturn, Agile is hoping to share the secrets of their success with potential midstream gas treating partners at this crucial event… at what looks to be a most crucial time for U.S. petroleum.
The conventional gas treatment subsidiary of Morrow Energy, Inc., Agile is run by Midland's Morrow family (former owners of SouthTex Treaters before the sale of that company to Kinder Morgan in 2011). Founded in 2014, this gas treating plant supplier is a relatively new business entity in the region, but its leaders were early pioneers of both conventional and unconventional natural gas treatment methods and plant manufacturing in the region and the industry. And like Agile, the business principles the company brings to bear on the current marketplace are not new – only historically under-utilized by suppliers now realizing the fundamental importance of this "new" business paradigm for achieving stability in a weakened oil & gas industry.
So just how does an oil & gas supplier, particularly those in the Permian Basin, protect itself from wild market fluctuations? According to Paul Morrow, Agile Process Solutions president and managing director of parent company Morrow Energy, a values-based business philosophy and management system emphasizing personal character and integrity, with clients and employees alike, makes all the difference – and it is not so easy to attain for businesses that did not already build a very deliberate corporate culture centered on relationships.
"For 30 years now we have continuously refined the engineering and manufacturing process for natural gas processing and oil & gas separation plants, but that has very little to do with our success thriving during many market downturns in the Permian Basin and in the industry. We are planning a strong presence at next year's GPA convention not only in hopes of securing further gas processing plant design and manufacturing projects, but honestly, we desire to share with other midstream producers and operators some of the fundamental business principles that have kept us thriving through many downturns, and which continue to work for us even now. We all need to pull together right now and help each other get through the next couple of years. We are getting hit pretty hard but there are ways to soften the blow."
Morrow continued to emphasize how Agile's management strategy is the most practical and sure-fire means of building product and relationships that both work right and last a long time. "Our values-based business model injects reliability and high performance into a business infrastructure that not only defies market variables, but virtually assures perpetual business growth and profitability. Under the circumstances bearing down on the industry right now, I'm hoping to hear a lot of these types of discussions next year. Either way, we've got a strong testimony for this industry and, right now, both our allies and competition need to hear it."
Agile Process Solutions, LLC, in collaboration with Morrow Renewables, LLC, offers natural gas producers and midstream operators process design, fabrication, construction and start-up for custom and stock oil and gas processing plants and equipment, with options for contract treating. Specializing in natural gas and oil facilities including amine treatment plants up to 2000 GPM, the company also provides crude oil stabilizers, TEG (glycol) dehydration units, physical solvent treating and NGL recovery (dewpoint control) and fractionation. Agile's ownership has over 100 years' combined experience in plant design and LNG plant manufacturing. The company operates a private business complex in Midland, Texas.