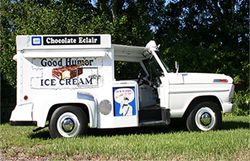 Clearwater, FL (PRWEB) October 12, 2015
Looking for weekend fun for the whole family? Look no further than Clearwater's premier law firm, Carlson, Meissner, Hart & Hayslett, P.A., whose commitment to clients and the local Tampa Bay area community is highlighted with regular events and charity fund raisers.
On Saturday, October 17th, from 10 am to 2 pm, the firm will be handing out free pumpkins at their Clearwater office, located at 250 North Belcher Road. Adults and children alike will enjoy the many treats and goodies, including candied apples, kettle corn, cookies and apple cider. Children will also receive Halloween goodie bags. And, no Carlson Meissner community event would be complete without a visit from the iconic Good Humor Ice Cream Truck, an area favorite. The 1969 Ford Good Humor Ice Cream Truck will be on hand for visitors to enjoy both the nostalgia and the ice cream.
"Giving back to our community is one of the core foundations of our firm. We appreciate our clients and our community and strive to give back whenever possible." said co-founder, Paul Meissner.
For more information about Carlson Meissner's 1st Annual Great Pumpkin Giveaway, or to RSVP, please call 877-728-9653.
About Carlson, Meissner, Hart & Hayslett , P.A.
The law firm of Carlson, Meissner, Hart & Hayslett P.A. was founded in 1971 by attorneys Ed Carlson and Paul Meissner. For more than four decades, they have been committed to protecting the injured and defending the accused. Their attorneys have established a solid reputation of case success throughout Florida, providing strong legal representation, easy accessibility and a high level of dependability. A client-centered approach ensures that clients know what is happening as their case progresses, and understand their options every step of the way. With a focus on personal injury, they help victims of auto accidents, slip and falls and wrongful death accidents. The firm is well-known for their innovative criminal defense and DUI work, defending both local and high-profile clients. Attorney and Partner Kevin Hayslett is widely recognized as The Attorney to the Stars, providing strong legal representation for notable celebrities and dignitaries throughout Florida. The firm also handles social security disability, workers compensation, divorce, family law and immigration cases. They offer free initial consultations and have five convenient Tampa Bay Area locations. Attorneys are available 24/7 for emergencies. Count on the legal team of Carlson, Meissner, Hart & Hayslett, P.A. to be there, fighting for you, protecting your rights. For more information or to schedule a consultation, call 877-728-9653 or visit their website at http://www.CarlsonMeissner.com