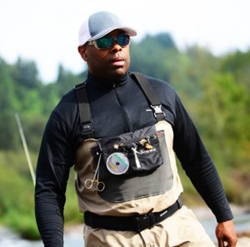 Fredericksburg, VA (PRWEB) October 12, 2015
Environmental consulting firm Marstel-Day is hosting Navy veteran Chad Brown for a talk called "Charting New Waters," about his experience using fly-fishing to help heal both veterans with post-traumatic stress disorder (PTSD) and troubled urban youth. The event is part of the firm's #StandWithWildlife series and takes place on October 15th at 12pmEST in the firm's Fredericksburg, VA office. He'll also talk about the unique psychologically healing qualities of being in nature.
The public is welcome to attend, with registrations required at malford(at)marstel-day(dot)com.
After a decorated Navy career, Brown coped with post-traumatic stress disorder (PTSD) by discovering his creative voice and designing award-winning advertising campaigns, even earning the prestigious American Association of Advertising Award.
But it was Brown's discovery of fly-fishing and spending quality time in nature that brought him solace from PTSD. As a result, he founded the non-profit organization Soul River Inc., which brings inner city youth and military veterans to the river together for fly-fishing - and home to themselves and their communities - as inspired ambassadors of nature.
Brown has collaborated with the National Wildlife Refuge Association, the US Fish and Wildlife Service and key city leaders and organizations about diversity, conservation and building collaborative relationships between non-profit and for-profit businesses. Brown also sits on the board of Healing Hurt People, Boy Scouts of America and the National Wildlife Refuge Association, and advocates for nature as therapy in state houses and to federal officials in Washington D.C. Soul River Inc. receives part of its funding from Brown's for-profit apparel business, Soul River Runs Deep, Portland's first outdoor lifestyle apparel brand inspired by fly fishing.
Rubin created #StandWithWildlife, previously known as the Wildlife Conservation Awareness Campaign, to highlight major conservation issues and present ways that individuals and organizations can make a difference.
About Marstel-Day:
Marstel-Day provides environmental and conservation consulting services for business, government, and non-profit clients. It provides climate and water risk analysis and mitigation, land use/encroachment management, sustainability management, renewable energy planning, and natural resource services. Marstel-Day has offices in Virginia, Maryland, Texas, Mississippi, and the United Kingdom, and is an official partner in the U.S. Environmental Protection Agency's Green Power Partnership program. Follow #StandWithWildlife on Twitter @marstelday, and watch previous events on video at http://www.marstel-day.com/media/stand-with-wildlife/