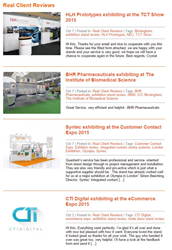 Poole, Dorset (PRWEB UK) 9 October 2015
Exhibition Stand specialists, Quadrant2Design, have always prided themselves on their close bonds with customers, and the great feedback they receive at the end of each show.
At the start of 2013, the company introduced a new feature to their website; 'Real Client Reviews'. This dedicated page features the genuine feedback from every client, who attends an exhibition with Quadrant2Design's exclusive Prestige Event System.
This week saw the company reach 200 genuine reviews, from an array of exhibitors including energy companies, education brands and those in the food sector.
Quadrant2Design do not manipulate or pick through each of the reviews choosing only the best, instead posting every review received, as the client writes it. This sometimes results in spelling mistakes, grammatical errors, and wide selection of comments, but does provide those visiting the website with an uninfluenced, genuine idea of what working with the Poole-based organisation is like.
All Real Client Reviews can be found on the Quadrant2Design website; http://www.prestige-system.com.
About Quadrant2Design
Quadrant2Design is the UK's only supplier of the Prestige Exhibition System. Portable, Modular and easy to self-build, the Prestige Exhibition System requires no tools or special skills. Catering for all sizes of exhibition stands, the Prestige Exhibition System, provides seamless effect, high quality graphics that have a custom feel, whilst being reusable and cost effective. With an array of possibilities, including lit showcases, mounted LCD TV's and high level branding, Quadrant2Design can create the perfect exhibition stand for any budget.