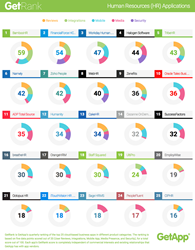 (PRWEB) October 12, 2015
GetApp, the largest cloud­-based business apps marketplace, has released its Q3 GetRank of the t​op 25 HR solutions in five different categories; BambooHR took the top spot in HR, TalentLMS in LMS, Greenhouse in Applicant Tracking, and ShiftPlanning in both Employee Scheduling and Workforce Management.
The ranking was determined using data available on GetApp and collected from other third­-party sources. The factors used to calculate an app's GetRank score include user generated reviews, integrations, mobile platforms, media presence, and security. The ranking will be updated every quarter to reflect newly available data.
The goal is to provide valuable data to companies who are looking to make a first assessment when choosing HR software.
"HR solutions are essential to help an employer effectively manage current and future employees, whether that be with training, scheduling, or booking time off. Regardless of if these functions are bundled as an all-in-one solution or are offered as a standalone product, HR applications need to be able to interact and integrate with each other in order to reduce the amount of time that a company spends on routine HR tasks," says GetApp co-founder Christophe Primault.
A range of data points is what makes GetApp's ranking unique in the industry. User-generated reviews and integrations are calculated using data listed on GetApp, while security scores come from vendor responses to a security survey based on the Cloud Security Alliance Self-­Assessment Form. Mobile platform data is pulled from Google Play and the Apple App Store, while media scores are calculated using the number of Facebook followers and Twitter fans a vendor has.
Along with the ranking, GetApp has released a research report highlighting software trends in the HR industry. The report features interviews and insights from leading HR industry experts including: Brian Westfall, senior market research associate at Software Advice; Tiffani Murray, HR strategist and technology professional; John Leh, CEO and lead analyst at Talented Learning; Katrina Baker, e-learning consultant and author of LMS Success; and Yuri Margoulis, director at WorkForce Delta.
Click through to access t​he Q3 GetRank for HR, Employee Scheduling, LMS, Applicant Tracking, and Workforce Management software.
Download a copy of GetApp's Q3 research report, HR in the Cloud: Key Trends for 2015 on GetApp.
More about GetApp: GetApp, a Gartner company, is the leading premium business app discovery platform on the web. Headquartered in Barcelona (Spain), GetApp serves as a platform for user-generated and editorial reviews of software and apps for businesses.