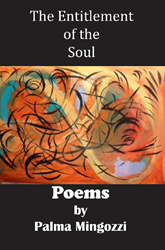 "This is a volume of poetry that will lift your soul and make your heart sing!"
Staten Island, NY (PRWEB) October 16, 2015
Boulevard Book is proud to announce the publication of a new volume of poetry by noted poet, Palma Mingozzi. Palma Mingozzi is a spiritual artist and poet whose journey began with poetry in the Italian Language. Following three publications, Un'Altro Oceano, Trofeo and Brucio di te, and then in English, Emotional Upheaval, and her latest, The Entitlement of the Soul she has taken poetry to new heights.
Palma Mingozzi's books offer an insight into the poet's life, including her dreams, hopes and sorrows, love, loss and re-emergence. She observes her human condition and uplifts the spirit in the desire to connect with everyone and make the world around her a more peaceful and beautiful place. Poetry is the song of the soul, and the soul moves all.
Founded in 2010 by educator, Avi Gvili, Boulevard Books is an educational publishing company for the 21st century.