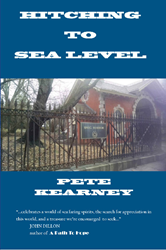 "Best Hitch-hiking book ever. It kayos "Even Cowgirls Get The Blues" and hard-tops "On The Road." Shows "Hitch-hikers Guide to the Galaxy" the highway."
Staten Island, New York (PRWEB) January 13, 2016
A sea Captain, a lazy detective and an area manager for Applebee's make up some of the cast of Pete Kearney's second novel. Hitching to Sea Level examines the drudgery of security work and the possibility of being of service to the deceased. Hitchhiking to the retired sailor's homes known as Snug Harbors, Kearney meets a consortium of characters that will have you reading frantically to the last page.
Pete Kearney is a Staten Island writer whose first book, RING SONGS examined the drama and humor of amateur boxing. The book was dedicated to Arthur Mercante a boxing hall of fame referee.
Mr Kearney is a Navy veteran whose civilian career revolved around the airline industry. His publication is the outcome of a life long interest in story telling.
Founded in 2010 by educator, Avi Gvili, Boulevard Books is an educational publishing company for the 21st century.