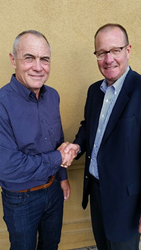 A"We are thrilled to be associated with Solomon Corp. Their sales force, customer base, vast inventory, and technical capability greatly enhances the service we can deliver." Camden Spill
Solomon, Kansas (PRWEB) October 10, 2015
Solomon Corporation has been a leader in transformer sales and service for more than forty years. With four locations nationwide, unmatched technical support, and a full line inventory of transformers for re-sale, Solomon is uniquely capable of providing a wide range of products and services for utility and industrial markets.
Maddox Industrial Transformer was formed by a leadership team with decades of transformer experience in the quick ship commercial and industrial transformer markets. The team's experience in providing high-quality work with short lead-times is making them invaluable to commercial and industrial market customers.
By combining strengths in fulfillment, purchasing, and inventory management, the alliance will provide customers with unparalleled availability, speed, and ease of doing business with total U.S. geographic coverage.
"Randall Maddox pioneered the quick-ship industrial transformer model during his time at Sunbelt. His team brings experience, expertise, and customer relationships it would have taken us decades to build on our own," Tom Hemmer, CEO of Solomon Corporation, said. "Together with Solomon Corporation's capabilities, inventory and geographic reach we will very quickly become the one-call transformer solution for industrial, commercial, and utility customers."
"We are thrilled to be associated with Solomon Corp. Their sales force, customer base, vast inventory, and technical capability greatly enhances the service we can deliver. We share a commitment to excellence in product and customer service," Camden Spiller, CEO/Randall Maddox, Founder, Maddox Industrial Transformer, said.
While maintaining independent ownership, the two companies will utilize this Alliance to provide the best in industry service to new and existing customers.
Solomon Corporation specializes in sales and service of oil-filled transformers and distribution transformers. We also offer technical support to the electrical distribution industry, as well as repair, recycling, and disposal of transformers, reclosers, and regulators. For more information or to request a quote, visit us at http://www.solomoncorp.com or call 800-234-2867.
Maddox Industrial Transformer is exclusively focused on the sale, rental, and repair of new and reconditioned transformers for commercial/industrial clients. Maddox maintains a large inventory of dry and liquid-filled transformers up to 15MVA. For more information, visit http://www.maddoxtransformer.com or call 800-270-2011.