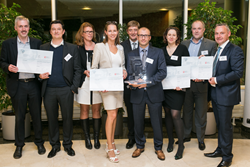 (PRWEB) October 11, 2015
Allegis Global Solutions (AGS) has been working under a Managed Service Program and Statement of Work contract with bpost, the Belgian Postal Group since April 2013 and June 2015 respectively.
Along with the usual array of KPIs that a workforce management solution provides such as reduced time to hire and improved candidate quality, AGS' has been able to achieve over €1.3 million of direct savings so far through our partnership.
This excellence award is testament to the hard work of the team and their innovative approach to tackling the challenges faced by their business, and was judged by an audience of industry experts on the night.
The award was not category specific and the submission was up against a wide range of procurement projects - not just equivalent workforce management submissions.
Both of these factors make this win all the more significant.
AGS is extremely grateful to the bpost team for all their hard work and commitment in making this project a success.
About Allegis Global Solutions
Allegis Global Solutions, a subsidiary of Allegis Group, transforms how businesses acquire talent, with a culture that is passionate about great talent, delivering innovative, client-focused solutions in markets across the globe.
About bpost
bpost is the leading postal operator in Belgium marketing a wide range of products and services on mail and related markets.
bpost's core business is the collection, sorting, transport and delivery of letters and parcels. Every day bpost staff deliver 9.6 million letters and 112,000 parcels to 4.7 million households in Belgium.
With 669 post offices and 675 postal points, 135 parcel lockers, and its eShop bpost offers a wide range of contact possibilities.
bpost also develops activities relating to the interaction between electronic communication and mail. bpost and its subsidiaries provide solutions in document management, international value added services and more.
Services provided to companies are marketed under the name bpost business. International activities operate under the name "Landmark Global, a bpost company".
bpost bank, a joint venture of bpost and BNP Paribas Fortis, markets a range of banking and insurance products.
bpost is listed on Euronext (Brussels). The Belgian state holds 51% of the capital.
For more information, contact:
Bridget Smith
Director of Marketing, EMEA
Email: bsmith(at)allegisglobalsolutions.com
Phone +44 (0)7739 787 419