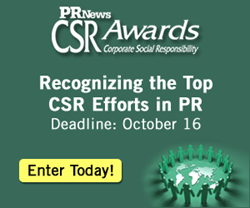 New York, NY (PRWEB) October 11, 2015
PR News' CSR Awards is the industry's best showcase for the most powerful, impactful social responsibility and green campaigns. The finalists in this awards program set new standards of excellence and lead the way for other organizations to follow. The entry deadline for this program is Friday, October 16, with a final deadline of Friday, October 23.
View how to enter here: http://www.prcsrawards.com.
Entries are judged by a blue chip panel of corporate, agency and academic executives as well as by the staff of PR News, and are evaluated based on creativity, innovation, sound planning, implementation and outcomes. The most important criterion is proven success in aligning strategic objectives with end goals.
To enter online, visit http://www.prcsrawards.com.
Winners and honorable mentions will be awarded in the following categories:

Agency CSR A-List
Annual Report
Blog
Cause Branding Campaign
Community Affairs
Corporate-Community Partnership
Corporation with between 1,000 and 10,000 employees
Corporation with between 10,000 and 25,000 employees
Corporation with less than 1,000 employees
Corporation with more than 25,000 employees
CSR on a Shoestring
CSR Professional of the Year
Diversity Communications
Employee Relations
Environmental Stewardship
Event: CSR / Green Focus
Facebook Communications Campaign
Green PR Campaign
Hall of Fame
Human Rights Communications
Media Relations
Nonprofit/Corporate Partnership
Philanthropy Communications
Pro Bono Campaign
Product Design / Redesign
Recycling Program
Social Good
Social Media Campaign
Stakeholder Engagement
Supplier/Vendor Partner of the Year
Sustainability/CSR Report
Twitter Communications
Video Initiatives
Volunteer Program
Workplace Innovation
Past winners for PR News' CSR Awards include AT&T, Kaiser Permanente, Southwest Airlines, Hyundai, Toys 'R' Us, and many more. For more information on how to enter and to view past winners, visit http://www.prcsrawards.com.
For questions regarding the CSR Awards, contact Mary-Lou French at MFrench(at)accessintel(dot)com. For sponsorship and exhibit information, contact Lindsay Silverberg at LSilverberg(at)accessintel(dot)com.
PR News is a daily intellectual hub that serves the communications and marketing community at corporations, agencies and nonprofits. The PR News Group focuses on honing and growing PR practitioners' skills in social media, crisis management, digital PR, measurement, employee relations, media training, CSR and writing through its flagship newsletter, webinars, conferences, awards programs, workshops and guidebooks. For more information, please visit http://www.prnewsonline.com.