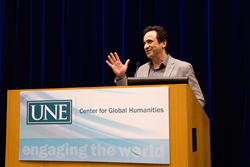 I am looking forward to sharing my views with German students and scholars about the contentious topic of Islam in its historical and global context
Portland, ME (PRWEB) October 09, 2015
Trailblazing University of New England (UNE) scholar, professor and administrator Anouar Majid, Ph.D., will give a lecture titled "Re-scripting Islam" at the Dahlem Humanities Center of the Free University of Berlin on October 13, 2015 at 6 p.m. local time. The lecture is co-sponsored by International Research Center "Interweaving Performance Cultures." Majid plans on challenging his audience to move past longstanding ideological constructions and imagine a future for Islam and the West without crippling cultural commitments.
Majid is also scheduled to give a lecture at the Institute for Cultural Diplomacy on October 12, titled "Diplomacy in the Age of Terror."
Majid, who has been described by Cornel West as one of today's "towering Islamic intellectuals," has published critically acclaimed books and articles on the topic and has appeared on Bill Moyers Journal, NPR, Al-Jazeera, and other U.S. and international media channels.
"I am looking forward to sharing my views with German students and scholars about the contentious topic of Islam in its historical and global context," Majid said. "The Germans have always been on the forefront of new research on these matters."
About The University of New England
The University of New England (UNE) is committed to innovation for a healthier planet. It has two distinctive coastal Maine campuses and a campus in Tangier, Morocco. With internationally recognized scholars in the sciences, health, medicine and the humanities, UNE offers more than 70 undergraduate, graduate and professional degree programs, and is home to Maine's only medical and dental schools. It is one of a select group of private universities with a comprehensive health education mission that includes medicine, pharmacy, dental medicine, nursing and an array of allied health professions. Visit http://www.une.edu
###