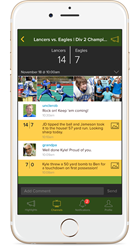 GameOn empowers parents to be the broadcaster of their kids' sports life. - Steve Goldman, Founder and CEO, Korrio
Seattle, WA (PRWEB) October 13, 2015
Korrio (korrio.com), a cloud-based service for organizing and sharing youth sports, today releases GameOn, a consumer iOS mobile app that offers parents a fast and fun way to capture and share game highlights - so no one misses a great sport moment.
"It's all about capturing those great sports moments! GameOn just makes sense – an easy way to share my kids' sports with friends and family", said Kristine Lilly, 2-time Olympic Gold Medalist and 2-time World Champion. "Now I just broadcast one GameOn update – and no one misses out!".
YOUR GAME. YOUR WAY.
GameOn lets you capture and share game highlights in a convenient and elegant manner with a player's followers. GameOn presents the 'broadcaster' with an easy to update scoreboard and comment field to add color commentary and pictures. Gone are the days of juggling multiple text strings, emails and social posts. GameOn automatically aggregates all of the game content and saves it so those special moments can live on – anytime, anywhere.
"Frequently a spouse, grandparent, friend, or other relative would love to know how their favorite player is doing, but they aren't able to attend every game", said Steve Goldman, Founder and CEO of Korrio. "GameOn empowers parents to be the broadcaster of their kids' sports life. The player's followers now experience the game as if they were there - receiving all the highlights, plus having the ability to comment - providing a unique, personal sports experience".
THE POWER OF FOLLOWERS
A dedicated community of family and friends surrounds each player and team. These followers are passionate about knowing how their favorite player or team is doing. In addition to receiving score updates and game highlights, followers can comment on the action directly through the GameOn app. Game highlights are sent as a notification so it only takes one click to be "in" the game.
Availability
GameOn is a free iOS app available for download from iTunes on October 13, 2015.
Tweet this #
@GameOnKorrio - free iOS app so you never miss the best sports moments! Download today
About Korrio
Korrio's cloud-based service and mobile apps are transforming sports at every level for the millions who participate by making it easy to organize, share and communicate. Visit us at gameon.cool, Facebook and Twitter.