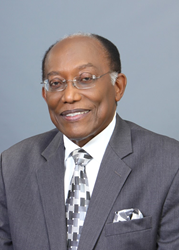 New Rochelle, NY (PRWEB) October 09, 2015
Monroe College, a national leader in urban and international education, today announced that Jamaican dignitary Errol Morrison, MD, OJ, PhD, will be speaking at a breakfast reception on Friday, October 16, as part of a broader celebration of Caribbean culture during Homecoming activities that weekend.
Dr. Morrison will lecture on the impact of science and technology on economic development in the Caribbean, a theme on which he is well versed. In addition to his research and work in the healthcare sector, Dr. Morrison serves as Director General of Jamaica's National Commission on Science & Technology, a national advisory board established to drive collaborative initiatives between the public sector and commercial interests to advance the role of science, technology and innovation in Jamaica's development.
"We look forward to having such an accomplished individual and true technology visionary share his perspectives on the transformative impact of science and innovation on development in the Caribbean," said Marc Jerome, Executive Vice President at Monroe College. "Monroe College is very proud of our role in helping these island nations cultivate and educate the skilled knowledge professionals they require to achieve their ambitious economic goals from both here and our campus in St. Lucia."
Lesleyann Samuel, business consultant, educator and president of the Union of Jamaican Alumni Associations, will join Dr. Morrison at the breakfast session, which is scheduled for 9:00 at Gaddy Hall in New Rochelle (380 Main Street). The meeting is opened to the public, and will be attended by Monroe College students, alumni, and invited guests from the Jamaican community. To RSVP, please call 1-800-556-6676.
"Since its very first international students enrolled in 1995 -- seven Jamaicans, coincidentally -- Monroe College has become the U.S. educator of choice for many Caribbean students pursuing a career in IT," said Dr. Geneive Brown Metzger, the former Jamaican consul general who now works with Monroe College on education-centric government partnerships in the Caribbean. "Dr. Morrison's visit is testament to the program's strength, and a fitting celebration of the achievements of all Monroe's students and alumni from the region."
A renowned scientist, Dr. Morrison has conducted pioneering work in several areas of healthcare, with a strong emphasis on diabetes management. In 1982, he helped establish the Diabetes Association of the Caribbean and, in 1991, launched the University of the West Indies' Diabetes Outreach Project (UDOP), a national initiative to raise awareness about the causes of the disease and provide education about managing it for those afflicted.
Dr. Morrison has held a number of teaching and administrative positions at the University of the West Indies, including professorships in Biochemistry and Endocrinology, as well as Pro Vice Chancellor and Dean of its School for Graduate Studies & Research. More recently, he served for seven years as president of Jamaica's University of Technology. He continues to serve as an advisor to the Prime Minister of Jamaica, Portia Simpson-Miller.
Dr. Morrison is a recipient of the Order of Jamaica for distinguished services in Biochemistry, Medicine and the Voluntary Social Services, as well as a recipient of the Queen's Gold Medal to the Commonwealth through the Royal Society for the Promotion of Health, for his services in Medicine and Medical Education throughout Jamaica and the world. He has received numerous international honors and awards as well, including the Harold Rifkin Award from the American Diabetes Association for outstanding and distinguished services in the cause of diabetes internationally.
ABOUT MONROE COLLEGE
Founded in 1933, New York-based Monroe College is a nationally ranked private institution of higher learning with a real world learning approach that prioritizes hands-on academic experiences, practical and relevant academic programs, flexible learning schedules, best-in-class instructional technologies, and committed and engaged faculty to ensure that students are well positioned for career success upon graduation. Monroe is among the leading higher education institutions in the country for graduating minority students.
Monroe College offers Certificate, Associate, Bachelor's, and Master's degree programs. It has campuses in the Bronx, New Rochelle, as well as in the Caribbean nation of St. Lucia, with programs offered through its Schools of Criminal Justice, Information Technology, Nursing, Education, Business & Accounting, Hospitality Management and Culinary Arts, and Allied Health Professions, as well as through its liberal arts and continuing education programs, and its King Graduate School. For more information and admissions criteria, please visit http://www.monroecollege.edu