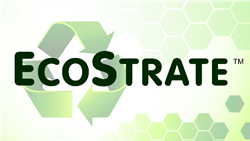 CalRecycle considers this type of infrastructure investment essential to successful materials management in California.
Los Angeles, CA (PRWEB) October 13, 2015
EcoStrate, SFS Inc. (Los Angeles County) was one of four companies awarded The Department of Resources Recycling and Recovery (CalRecycle) grant of $1 million to boost the state's greenhouse gas reduction efforts. EcoStrate, in partnership with Reliance Carpet Cushion was awarded $1 million as a part of the Organics Grant and Recycled Fiber, Plastic, and Glass Grant Program. This project will help California reach its statewide recycling goal.
EcoStrate uses electronic waste plastics, a variety of textile waste, including carpet, to create traffic signs, indoor signage, and flooring. EcoStrate's founders have extensive experience using materials such as carpet, computer carcasses and carpet padding, textile waste and other waste products to be recycled into products already in use today. EcoStrate aims to divert these waste raw materials from landfills into its recycling plants and into a final, 100% post-consumer recycled product.
CalReycle explained, "CalRecycle considers this type of infrastructure investment essential to successful materials management in California. Continued partnerships and collaboration among the private and public sectors to successfully implement projects such as recyclable commodities manufacturing infrastructure, with a focus on reducing greenhouse gas emissions and diverting more materials from landfills, supports the State's greenhouse gas reduction and 75 percent solid waste recycling goals."
Ron Simonetti (COO) explains, "EcoStrate is building initial manufacturing capability in Los Angeles, CA with funding from CalRecycle to produce millions of square feet of composite substrate for traffic and indoor signage applications. The demand for 100% recycled content EcoStrate vs. alternative substrates like aluminum will result in on-shoring waste currently exported to Asia and diverting waste currently headed to landfills."
Ron Sherga (CEO) states, "EcoStrate is extremely honored to be receiving funds from CalRecycle for creating solutions to waste issues within the state of California. We are happy CalRecycle recognizes the growing and challenging waste issues and has financially committed to assisting EcoStrate's business in using textile waste recovered by Reliance Carpet Cushion and E waste plastics. This unique partnership and economically sustainable, closed loop model, is adoptable for the global community. EcoStrate is excited to move ahead more aggressively and provide products for roadways and buildings across the USA."
To learn more about EcoStrate's role in reducing the amount of postconsumer plastics and fiber sent to landfills, contact Hayley Sherga at hsherga(at)ecostrate(dot)net or call 646.715.6894.