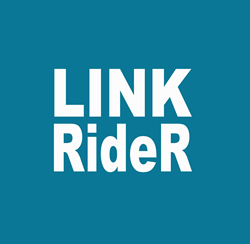 It is time for us to enjoy the free ride sharing together. Consume less, earn more. Car pooling is not uncommon but we didn't have an instance app platform to look for one and another. Link Rider can bring you a reality.
(PRWEB) October 13, 2015
As the traffic congestion in major cities is getting worse, more and more people are looking for alternative means of transport. Link Rider is a new ride-sharing app that looks to change the face of commuting by matching drivers and their empty spaces with people needing rides to the same area at a cheaper cost.
Link Rider is suited to both urban areas and longer distances and promotes conscious, low cost, convenient transportation. Link Rider mobile app is simple and easy to use, making it easy for people to help one another and reduce the environmental impact of their transport, without inconveniencing themselves.
"We must spread the word to people for ride sharing and sharing economy. Aware of people consume too much of natural resources from and facing frequent traffic congestion in our city, it motivates us to develop the Link Rider mobile app. Link Rider supports all the cities in the world. No matter you are living in US or traveling to Japan, you can use our mobile app platform to match the driver and rider," says the Director of Link Rider.
One aim of Link Rider is to help drivers and riders to match each other easily, instead of leaving a lot of messages in forums to look for one and other. It simplifies the matching process by making a real-time connection with the person offering the ride and the person taking the ride. Another aim is to support ride-sharing to consume less of our resources. No fee is charged each time a ride is completed. Link Rider benefits both drivers and riders, sharing costs of petrol and parking, and offering instant, direct transport without having to wait for and navigate public transport.
A variety of benefit of ride sharing, including:

Low cost
Environment Friendly
Less air pollution
Less traffic congestion
To take advantage of the low cost ride-sharing together, please simply visit the "Link Rider" web page at http://linkrider.net. Mobile app for Android user is now available in the Google Play, for IOS version will be ready on 19/10/2015. Link Rider supports for Facebook or Gmail to login.
About linkrider.net
Linkrider.net is an innovative provider of ride sharing mobile app. Their website at http://www.linkrider.net and Facebook at http://www.facebook.com/linkridersharing/.