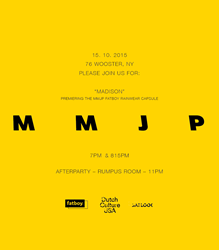 "Alex Bergman, Founder and Creative Director of Fatboy, seeks to enhance spaces, both indoor and outdoor, by designing functional and unique furniture, lighting and lifestyle products that make a statement." said Paula Masters, President of Fatboy USA.
Dallas, Texas (PRWEB) October 12, 2015
True to its extraordinary reputation for innovation and creativity, Fatboy®, a Dutch based trendsetter in the furniture and design industry, today announced it has partnered with fashion design duo from Amsterdam, MaryMe-JimmyPaul, to design a Fatboy collection of rainwear to infuse into their spring 2016 collection. Be prepared to fulfill your fashion wishes and indulge in this mesmerizing collection launching Thursday, October 15th at the renowned Soho Arts Club in New York City.
For more than a decade Fatboy, a Dutch based company known for fashion and comfort, has been bringing innovative lifestyle products to people in over fifty countries world -wide. Fatboy's identity is anchored in iconic designs mixed with a creative spirit that extends into all their product offerings.
"Alex Bergman, Founder and Creative Director of Fatboy, seeks to enhance experiences and spaces, both indoor and outdoor, by designing functional and unique furniture, lighting and lifestyle products that make a statement. The success of the Fatboy brand is a testament to his ability to design product with immense creativity and fortitude." said Paula Masters, CEO and President of Fatboy USA. "The new rainwear collection is no different. It incorporates the elements of inspirational design and infuses into the world of fashion," continued Masters.
MaryMe-JimmyPaul, also known as MMJP, explores fashion in its own unique way, crafting clothing from drawing from their stories and experiences. MaryMe-JimmyPaul takes inspiration from American pop culture through a European lens, resulting in a distinctive mash-up of different pop cultures. They push the boundaries of shape, textures, and colors, raising eyebrows with big, sculptural works, crafting desirable and avant-garde clothing. Inspired from different disciplines within both the art and fashion worlds, MMJP takes the viewer into a beautiful and humorous fantasy fashion world through its unique presentation, which is why the collaboration with Fatboy evokes an immense amount of anticipation and excitement. Both brands see the world as grandiose and as a canvas that can be painted to create something fabulous!
The MMJP spring collection investigates what the designers envision as the origin of the idea of beauty and glamour, seen from a more romantic and sentimental perspective. They bring forth the idea of a beauty that is unrelated to the idea of appearance with the end goal of unleashing a new image of fashion, exploring shapes, structures, and surfaces. The new collection creates the perfect habitat where your senses are able to escape to a beautiful garden and hidden places within wearable spaces. Inspired by natural influences like landscaped parks, campgrounds, and waterfalls, MMJP gets its visual inspiration tools from the Japanese Zen garden. The inspiration for the new rainwear collection, created in collaboration with Fatboy and made from fabric used within their collections, is no different. Working with the ceremonial traditions and aesthetics from the Zen garden, MMJP took the influence of western jacket styles and combined them with the icon of Japanese culture, the kimono. The result is a playful, cosmopolitan and cheeky view on rainwear that is certain to carve a place in history.
MMJP is partnering with New York based DATLOOK to curate the innovative, eye-catching presentation. The venue will be morphed into a space and place to engage fashion influencers and media from across the globe using pieces from the Fatboy product portfolio.
Event Information:
Collection Reveal:
Thursday, October 15, 2015
7:00 PM - 8:15 PM
Soho Arts Club, 76 Wooster, NYC
Afterparty:
11:00 PM
Rumpus Room, 249 Eldridge Street, NYC
Event Contact:
For more information about the event please contact DATLOOK at info(at)datlook(dot)com.
For information about Fatboy and its products outside the US and Canada, please visit fatboy.com or email lotte(at)fatboy(dot)com
For all other inquiries, please visit fatboyusa.com or e-mail info(at)fatboyusa(dot)com
About Fatboy
Fatboy® is a lifestyle brand that excels in thinking outside the box. Fatboy has been challenging the concepts of lifestyle products since 2002, when it set out to create the perfect lounge chair— designed for fashion, for comfort, and tailored for an unmatched lounging experience. Today, Fatboy brings energizing comfort and smiles to people in over fifty countries worldwide with a growing line of lifestyle products. Fatboy's identity is anchored in iconic European design mixed with a creative spirit and a sense of humor that extends into all of their product offerings. Fatboy is known for creating iconic products with a simple yet compelling idea reflected in their tagline, "Deleting Dull." The tagline aligns with what has remained the core of the Fatboy brand philosophy from birth, which is to design captivating product to evoke an authentic change in people's minds for the better through the experience they have with their lifestyle products. For additional information, please visit fatboyusa.com.
About MaryMe-JimmyPaul
MaryMe-JimmyPaul is a fashion design duo, Marie Burlot and Jimmy Paul van Rinsum, based in Amsterdam the Netherlands. Constantly pushing the boundaries of what fashion CAN be, questioning when is it art when is it fashion and presenting their works in a different way, MaryMe-JimmyPaul come up each and every time with different tongue-in-cheek fashion shapes, textures, colors and looks. Over the years, MMJP's work has received major press coverage, with editorials in Vogue, Dazed & Confused, Schön Magazine, and Harper''s Bazaar. The clothes have attracted the attention of celebrities, and have been worn by Iggy Azalea, Rihanna, and Chloë Moretz. MMJP has also completed several commissions for musicians like Kylie Minogue and Lady Gaga. Besides this, MaryMe-JimmyPaul has presented their works on different international platforms, like The World Expo in Shanghai, London and Paris Fashion Week, Dutch Design Week and Art Basel. With the help of different disciplines from the art and fashion world, MaryMe-JimmyPaul takes the viewer into the beautiful, eerie, humorous, bizarre, grandiose fantasy fashion world of MaryMe-JimmyPaul, through its unique presentation. For additional information, please visit maryme-jimmypaul.com.
About DATLOOK
DATLOOK is an NYC based creative platform for emerging designers. This season, DATLOOK will be representing MaryMe-Jimmy Paul. For more information about DATLOOK, please visit DATLOOK.COM.