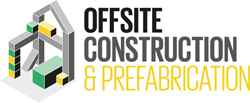 UK (PRWEB UK) 12 October 2015
The speaker faculty features leading industry professionals including:

Oliver Novakovic, Msc AMIM, Technical & Innovation, Director, Barratt Developments
John Dyson, VP and Head of Global Projects, GSK
John Roberts, Head of Civils - Engineering Excellence Group, Laing O'Rourke
Ken Davie, RIBA, Head of Offsite Development, Carillion Building
Philip Watson, UK Design Director and Sector Leader for Education, Atkins
John Skivington, Director, LHC
Jeff Endean, Housing Strategy Manager, Lewisham Council
Simon Gawthorpe, Managing Director, Urban Splash
The conference will feature leading project case studies that will help to:

Deal with challenging client requests with the Lime Tree Primary project
Gain appropriate funding with the Lewisham 'Pop-Up Village' project
Deliver highly sustainable buildings with the Believe in Better Sky Office project
Deliver multiple, compliant and adaptable buildings with the GlaxoSmithKline project
Improve quality and reduce deficiencies with The Modular Allianz project
Increase speed and efficiency with the Urban Splash Modular Homes project
Manage private and public stakeholder concerns with the Pocket Living project
The demand for housing, commercial buildings and educational facilities is at an all time high. The challenge right now is the speed that is required to meet these needs in the immediate term. On top of this, the skills shortage in the construction industry, the push from government to improve efficiency and minimise carbon emissions is adding to the complexity of the situation, especially when the client is insisting that all of this is achieved to a high spec with a minimal budget.
Many of your industry peers are saying offsite construction and prefabrication is the solution to combat all of the above, through reducing waste, reducing the delivery time and eradicating the need for a large, skilled workforce.
The conference is taking place on 7 – 9 December 2015 in Manchester, UK. Find the full program, event details and registration information here: http://bit.ly/1PkVtCv, call +44 (0) 20 7036 1300 or email enquire@iqpc.co.uk .
--ENDS--
Media contact: Jessica Taylor, +44 (0)20 7368 9338, Jessica.taylor(at)iqpc(dot)co.uk or visit: ww.offsiteconstructionevent.com.
Press are invited to attend this important industry forum. If you would like a complimentary press pass please email Jessica Taylor at jessica.taylor(at)iqpc(dot)co.uk.