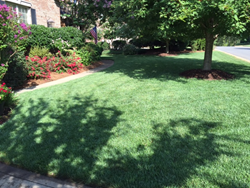 Elite Tall Fescue grass seed is "top rated in turf quality and water performance, producing 35% or greater water savings" when compared to other varieties
(PRWEB) October 17, 2015
Super-Sod's hand picked blend of Tall Fescue seed is back in stock in time for planting this cool season lawn. Now through October 31 is the prime time to plant Tall Fescue seed, depending on weather conditions. With Super-Sod's Elite Tall Fescue grass seed, homeowners and landscapers can grow the same grass from seed that Super-Sod grows as sod. It is certified Blue Tag seed, containing no filler or weed seed, meaning it is the highest quality seed available to the public.
Elite Tall Fescue seed is a blend of "best by test" varieties for the Southeast produced by Pennington Seed exclusively for Super-Sod. Super-Sod chooses its Elite Tall Fescue blend from a combination of the finest and newest tall fescue selections, with superior disease and pest resistance. Every year the turfgrass experts at Super-Sod take the extra step to visit the Pennington farms to hand select the best three Fescue cultivars for their Elite Tall blend based on quality and performance, something the competition just doesn't do. Other seed distributors choose their tall fescue types based on price, not performance.
Russell Chambless with Pennington points out that Elite Tall Fescue grass seed is "top rated in turf quality and water performance, producing 35% or greater water savings" when compared to other varieties. This water savings earns the Elite Tall Fescue seed the Water Star Qualified achievement. According to the US Environmental Protection Agency, 9 billion gallons of water are used on residential lawn irrigation everyday. Research by the Turfgrass Water Conservation Alliance has proven that Water Star grass seed varieties use less water.
Super-Sod's Elite Tall Fescue seed features "Myco Advantage" micro-organisms that attach to seed roots to help establish a strong root system. This provides better drought protection for newly planted or established lawns and increases ability of roots to absorb nutrients from the soil. The seed is also Penkoted---coated with a protective fungicide for disease resistance when the seed is germinating and is the most vulnerable to fungus.
Elite Tall Fescue Grass Seed can be purchased at Super-Sod stores within the Tall Fescue growing range.
Super-Sod is a family-run business that employs experts in turf and horticulture. One of their most popular products has been their Soil3 organic compost, delivered in a cubic yard BigYellowBag, which they make partially from composted grass clippings from their sod production. Super-Sod continues to develop new garden products, foster gardening and landscaping, and always seeks to improve their farming practices, technology, environmental stewardship, and employee knowledge.