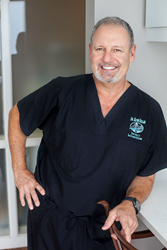 Mount Pleasant, SC (PRWEB) October 12, 2015
Kevin Hogan, DDS, is celebrating Dental Hygiene Month this October by offering a state-of-the-art, gum disease treatment option, which does not require a scalpel to remove damaged tissues. Dr. Hogan is a dentist in Mount Pleasant, SC, whose goal is to adopt the latest technology, in the efforts to minimize or eliminate the discomfort associated with traditional methods of treatment. Using laser gum surgery, he is able to precisely target and eradicate bacteria below the gum line, without harming healthy tissue, allowing patients to experience a rapid and complete recovery.
The symptoms of gum disease are often progressive, and a person may not easily distinguish a problem until inflammation causes the gums to swell or bleed. At this stage, bacteria has already begun to attack the delicate tissues and supporting structures surrounding the roots of the teeth, creating an essential need for a visit to a dentist in Mount Pleasant, SC; this may prevent a mild case of gingivitis from evolving into advanced periodontitis.
Typically, a dentist would perform a scalpel surgery to treat moderate to severe gum disease. The gums are cut and pulled back from the roots of teeth, where the calculus is scraped away and the diseased tissue is removed. After the dentist stitches the gums back in place, they are not always able to fully reattach in their original positions, due to the nature of the invasive surgery, which may lead to recession and painful root sensitivity.
Rather than putting his patients through the trauma of a scalpel surgery, Dr. Hogan uses the PerioLase® MVP-7™ laser to treat periodontitis. The tip of the laser is about the width of three hairs; it can be inserted into the gap between the gums and teeth, cleaning the infected area without the necessity for incisions. There is minimal bleeding during or after the procedure, and the laser stimulates bone growth, allowing gums to heal at an expedited rate.
Dental Hygiene Month is the ideal time for a person seeking a dentist in Mount Pleasant, SC, to visit Dr. Hogan's website and learn more about the benefits of laser gum surgery.
About the Doctor:
Dr. Kevin Hogan is a general dentist providing individualized care for patients in Mount Pleasant, SC. Dr. Hogan is a graduate of the Indiana University School of Dentistry and has completed hundreds of hours of continuing education courses to stay up to date with the latest dental technologies. In addition, he has also completed coursework with the Dental Organization for Conscious Sedation and has lectured at both the University of North Carolina and Emory University. Dr. Hogan is a member of the American Dental Association, International College of Cranio-Mandibular Orthopedics, Academy of Laser Dentistry, International Association of Physiologic Aesthetics, Institute for Advanced Laser Dentistry, among many other. He and his team are dedicated to providing exceptional oral care to patients through personalized treatment plans. To learn more about the services offered by Dr. Hogan, please visit his website at http://www.smilesbyhogan.com or call (843) 639-5044.