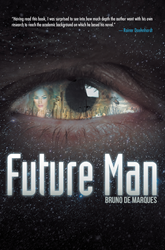 "Changing the future is a gargantuan task," said de Marques. "It's a cause that will need us all."
LISBON (PRWEB) October 12, 2015
What happened to the future? We live in 2015 and yet we have little to show for it – no flying cars, no teleportation devices, no humanoid robots, no manned space exploration. When did those dreams die?
"Future Man," the new novel from author Bruno de Marques, seeks to revive that once-promising vision of the future. The tightly wound plot follows Vincent, an average, middle-aged man from Delaware, who is disillusioned by the unfulfilled promises of the science fiction of his youth. Determined to usher in a new era of technological advances, Vincent searches the world for scientists who can help turn his vision to reality. What follows is an adventurous journey across the globe – and the galaxy – as Vincent seeks to develop the technology that will create more interesting and fulfilling lives for people all over the world.
"For those of us who followed the world's quest for the moon and beyond, expectations over what the future might bring were high and diverse," said de Marques. "It's now the 21st century and the 'future' never came to pass."
"Future Man" is an action-packed adventure and homage to the classic science fiction tropes of the past. De Marques hopes to inspire readers to push for the future we've always envisioned.
"Changing the future is a gargantuan task," said de Marques. "It's a cause that will need us all."
For more information, visit http://www.brunodemarques.com/.
Future Man
By Bruno de Marques
ISBN: 978-1-4808-1814-9
Available in softcover, hardcover, e-book
Available on Amazon, Barnes & Noble, and Archway
About the author
Bruno de Marques resides in Lisbon, Portugal. The idea for "Future Man" came to de Marques after he learned of historian Rainer Daehnhardt, who researched the scientific activities in Antarctica by the German Nazi regime during the 1930s and '40s.
# # #
**FOR IMMEDIATE RELEASE**
For review copies or interview requests, contact:
Drew Tharp
317.602.7137
dtharp(at)bohlsengroup(dot)com