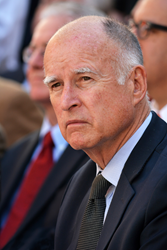 ..an exciting moment for California students with dyslexia...
Sacramento, California (PRWEB) October 10, 2015
FOR IMMEDIATE RELEASE
###
On October 8th, Gov. Jerry Brown signed Assembly Bill 1369, to improve educational services for California's nearly one million public school children with dyslexia.
The bill, which received strong bipartisan support, requires the Superintendent of Public Instruction to publish guidelines that assist special and regular education teachers, students, and their parents, in improving the education of dyslexic students.
The need for this bill demonstrated a nationwide survey of parents of dyslexic public school students, conducted by the non-profit organization Dyslexic Advantage. When surveyed, 95% of California parents said their child's teacher was not prepared to teach their dyslexic student.
Dyslexia is a brain-based learning difference that characterizes one-in-six persons. Dyslexic students typically have more difficulty mastering basic skills like reading, writing, spelling, and math calculation. Yet they are also typically of average or superior intelligence, and commonly show significant strengths in areas like spatial reasoning, pattern recognition, and problem-solving.
Studies have consistently shown that dyslexic students learn best with methods of instruction specifically designed to fit their way of thinking and learning, including multi-sensory and project-based approaches. Failure to identify and appropriately educate children with dyslexia puts them at considerable risk for negative academic, psychological, and behavioral outcomes.
"This is an exciting moment for California students with dyslexia, and real progress can now begin," said Dr. Fernette Eide, co-founder of the non-profit organization Dyslexic Advantage, who organized the school survey.
Contact:
Fernette Eide M.D., Co-Founder
Dyslexic Advantage
Voice Phone: 1-800-757-8310 x 705
Fax Number: 425-609-0050
Email: drseide(at)dyslexicadvantage(dot)org
Website: http://dyslexicadvantage.org
About: Dyslexic Advantage is a 501(c)3 non-profit organization is one of the world's largest dyslexia organizations. Its mission is to promote the positive identity, community, and achievement of dyslexic people by focusing on strengths.
###