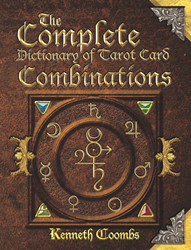 I hope you gain as much insight as I have in your study of Tarot card combinations. Enjoy your quest for truth!
Collinsville, IL (PRWEB) October 16, 2015
The hottest topic in the Tarot world these days is the study of Tarot card combinations. There are 78 Tarot cards, which gives rise to 3003 unique two-card combinations. Some have said it would take a lifetime to define them all. Others have said it is impossible. Finally in the history of Tarot, all 3003 combinations, or Tarot Pairs, are now available in "The Complete Dictionary of Tarot Card Combinations" by Kenneth Coombs.
The 78 Tarot cards describe unique energy states. As these energies interact, forces are created that give rise to reality. By understanding what a given Tarot card combination means, more insight and clarity is gained in a Tarot reading. While it is important for the beginning student of Tarot to learn the individual meanings of the 78 Tarot cards both upright and reversed, it is also important to understand how the Tarot cards react and interact with each other in a Tarot spread. This book is meant to be the definitive guide or dictionary of every possible Tarot card combination, and is the result of over 30 years of Tarot card study.
The Complete Dictionary of Tarot Card Combinations is available for purchase here: http://www.mirabooksmart.com/The-Complete-Dictionary-of-Tarot-Card-Combinations_p_619.html
This dictionary is also available as a mobile application entitled Tarot Pairs, available on iTunes: https://itunes.apple.com/us/app/tarot-pairs/id996915219?mt=8
and Google Play: https://play.google.com/store/apps/details?id=com.tarot.pairs.main&hl=en
Kenneth has been a Tarot reader since he received his first deck of Tarot cards from his grandmother on his thirteenth birthday. His well-worn deck of Rider-Waite Tarot cards has been around the world with him and back. He has had them by his side since he received them. Kenneth uses the Tarot every day, helping real-world clients in an efficient, effective way. Kenneth has over thirty years of experience with the Tarot cards. He has read hundreds of Tarot books over the years. He has a degree in chemistry and mathematics, and he analyzes the Tarot cards in a scientific way.
Kenneth offers Tarot readings by e-mail, telephone, and chat (both online and face-to-face). To contact him for a reading or with questions, send an email to mrkenn(at)core(dot)com.
This is Kenneth's second book and perhaps there are more to come. His first book, Tarot Alchemy, is available from Amazon: http://www.amazon.com/gp/product/B008B9WF6O?keywords=kenneth%20coombs&qid=1444924665&ref_=sr_1_1&s=books&sr=1-1.
For more information regarding Tarot cards and Tarot card combinations, visit Kenneth's website, http://www.SunMoonTarot.com or his Facebook page, https://www.facebook.com/groups/AdvancedTarotReaders/