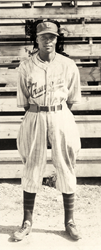 We are excited to be able to highlight Jimmie Crutchfield's contribution to American baseball history by educating our youth.
Eagan, MN (PRWEB) October 09, 2015
The Crutchfield Dermatology Foundation and Crutchfield Family invites applications for its College Scholarship. The student selected as the Jimmie Crutchfield Scholar will be awarded $1,000 for tuition, living expenses, books, and other required fees. The Jimmy Crutchfield Scholarship is available to high-achieving high school seniors who seek to attend an accredited U.S. post secondary institution.
The scholarship is being done in conjunction with the Society for American Baseball Research (SABR) which holds the annual Negro Baseball League Conference. The Jerry Malloy Negro League Conference, hosted by SABR's Negro Leagues Committee, promotes activities to enhance scholarly, educational, and literary objectives. Since 1998, the event has been the only academic symposium dedicated exclusively to the examination and promotion of black baseball history. Each year, monies are targeted to award scholarships to high school seniors in a nationwide essay contest. We welcome donations in any amount to fund our programs, initiatives, and your new ideas. The program boasts a network of 6,500 individuals and over 30 research committees.
Recipients will be chosen based on exceptional academic ability and achievement, , desire to help others, and leadership. Applications require students to provide their teacher recommendations, lists of high school and community activities, and a 1200 word essay on Jimmy Crutchfield and his significance to Negro League history.
The application period will close on March 28, 2016. Final notification to accepted students will be made in April 2016. For information about the College Scholarship Program, visit http://www.jimmiecrutchfieldscholarship.com
Crutchfield Dermatology Foundation is a 501(c)(3) non-profit organization created in 2012 to promote good health in Minnesota. Providing scholarships & creating articles, educational presentations, online materials, and books. Successes include the Foundation's support of a one-of-a-kind lectureship on ethnic skin at the University of Minnesota, and publishing and distributing a children's book protecting skin from solar damage. One of the Foundation's premiere events is its annual 5K. Which has been successful raising funds benefiting the American Academy of Dermatology's Camp Discovery.