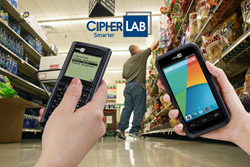 The bottom line is that Intelligent Order Entry, when coupled with CipherLab handheld mobile computers, creates one of the most efficient systems of its type - and one that gives an almost immediate return on investment to customers.
Las Vegas, NV (PRWEB) October 12, 2015
CipherLab USA, an established innovator in Automatic Identification and Data Capture (AIDC), will be attending NACS SHOW 2015, October 12-14 in Las Vegas, NV to demonstrate their Intelligent Order Entry solution with the latest rugged Android touch mobile computers and Telxon replacement handheld computers.
Stop by the booth #4809 to find out how CipherLab's new RS30 series Android touch mobile computers can help you with an Intelligent Order Entry solution and/or a Telxon replacement solution on CipherLab OS handheld computers.
CipherLab's Intelligent Order Entry (IOE), designed specifically for use by grocery and C-stores, ensures that shipping container space is maximized to resolve packing problems and reduce overall freight costs. When used in conjunction with CipherLab's handheld scanners, Intelligent Order Entry enables users to calculate the cubic footage and weight of bulk goods, thereby reducing wasted space in shipping containers. The IOE program also alerts users to discontinued items, the availability of substitute items, converts UPC codes to warehouse codes and displays backroom inventory during the order process.
IOE program user has a streamlined and efficient logistics system that takes into account the unique needs of maritime transportation. In this business, weight is not necessarily the biggest cost factor - it's space. By working with CipherLab IOE program, users put ordering control into its customers' hands. Now, customers know exactly how much container space will be required for each order. This enables us to proactively suggest adding or removing items to properly and completely fill a container, helping our members minimize their shipping costs."
"The Intelligent Order Entry can also assist grocers and retailers to more efficiently deliver goods by air, sea and rail. Although it is initially developed for use in port facilities, the concept of 'cubing,' or automatically calculating the cubic feet of container space, is the same for other forms of transportation." stated by Luis Wu, Vice President and General Manager of CipherLab USA. "The bottom line is that Intelligent Order Entry, when coupled with CipherLab handheld mobile computers, creates one of the most efficient systems of its type - and one that gives an almost immediate return on investment to customers."
Replace the legacy Telxon / MSI / Symbol handheld terminals by CipherLab solution. The end users don't have to use refurbished legacy units to save repairing cost. CipherLab 8000/8200/8600 series mobile computers can replace legacy terminals by custom programs.
For BYOD users, it is the time to replace the consumer grade device with CipherLab RS30 rugged Android touch computer that equipped a linear, laser or 2D barcode scanner. CipherLab's RS30 series touch mobile computer is a rugged smartphone that allows users to perform at a high level with minimal training. Its Android 4.4 OS paired with a 4.7 inch touch screen ensures that the user interface is as familiar as a personal smartphone. The touch screen is composed of a Corning Gorilla Glass 3 panel that can take vigorous tapping as well as latex glove touches. Seamless communication and collaboration among crew is achieved through HSPA+ and finely tuned 802.11 b/g/n. The RS30 also includes versatile industrial barcode reader options and Near Field Communication (NFC) to ensure top productivity. These features are ultimately protected with an industrial design which is proven to sustain accidental drops and water splashes. With the RS30, you can maximize your investments and perform with confidence.
For more details and specifications regarding CipherLab's replacement solutions or request for a free demo, please send an email to NASales(at)cipherlab(dot)com or contact our office at 888-300-9779.
About CipherLab
CipherLab is a global leader in the design, manufacture, and marketing of Automatic Identification and Data Capture/Collection products and systems. The company's mobile computers and scanners are integrated into the networks of some of the world's best known logistics, retail, distribution, government installations and healthcare companies, helping them run more efficiently and effectively onsite and on the road. CipherLab USA is headquartered in Plano, TX. For more information, please visit http://www.cipherlab.com or like us at http://www.facebook.com/CipherlabUsa.