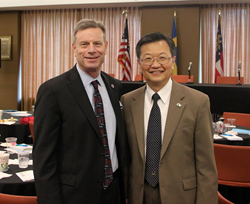 Attendees heard from leaders with a variety of backgrounds-Fortune 500, international trade policy expertise, media and organizations that partner with industry, government and research to advance global competitiveness
Atlanta, Georgia (PRWEB) October 13, 2015
The Swedish American Chambers of Commerce hosted business leaders and innovators to the SACC Summit 2015 held earlier this month at the Metro Atlanta Chamber of Commerce (MAC). Gary Bruce, President of PartnerTech Inc., currently serves as SACC-GA Chairman and Chair-Elect to SACC-USA. Gary also serves on Metro Atlanta's Advanced Manufacturing and Supply Chain Leadership Council.
The annual SACC Summit is a vital event to support economic expansion through the history of great relationships between U.S. and Swedish businesses. There are over 100 Swedish facilities in various industries operating in Georgia and more than 300,000 jobs in the U.S. can be attributed to economic interaction between Swedish businesses and the U.S.
The SACC Summit offers the chance to network with other business leaders that value opportunities for growth and support international business development.
Gary Bruce of PartnerTech says, "This was a great opportunity to connect and network. The speakers offered a diverse combination of expertise and inspiration for anyone looking to grow their business. Attendees heard from leaders with a variety of backgrounds-Fortune 500, international trade policy expertise, media and organizations that partner with industry, government and research to advance global competitiveness."
The speaker list included Thomas Franzen, CEO at Bonnier Group, Dontai Smalls, VP of Public Corporate Affairs for UPS, Andreas von Uexkull, Minister Counselor, Head of Trade and Economic Affairs from the Embassy of Sweden, Dr. Ben Wang, Executive Director of Georgia Tech Manufacturing Institute and Stephen Fleming, Executive Director of Georgia Tech Enterprise Innovation Institute and Director of the Advanced Technology Development Center.
The Swedish American Chamber of Commerce hosts several events every year across the nation. The mission of the Swedish American Chamber of Commerce is to facilitate and support trade, commerce and investment between the U.S. and Sweden by helping Swedish and U.S. companies find the right partners.
About PartnerTech
PartnerTech is a global industrial partner offering customized solutions throughout the product lifecycle, from product development to manufacturing and aftermarket services, in a number of market areas such as MedTech and Oil & Gas. With approximately 1,400 employees at its plants in Sweden, Norway, Finland, Poland, the UK, the United States and China, PartnerTech reports annual sales of more than SEK 2.2 billion.
PartnerTech was recently acquired by Scanfil plc, an international contract manufacturer and system supplier with nearly 40 years of experience in demanding contract manufacturing.
Scanfil is headquartered in Sievi, Finland and has production operations in Finland, China, Germany, Hungary and Estonia. Scanfil's turnover in 2014 was EUR 214.5 million and it employed a total of 1,800 people. The key elements of Scanfil's operations include a vertically integrated production system and the provision of services and supply chain management to customers over the entire life cycle of the product. Its customers include international operators in the automation, energy, data transmission and health technology sectors, and companies operating in fields related to urbanization, among other industries. For more information http://www.partnertech.com and http://www.scanfil.com