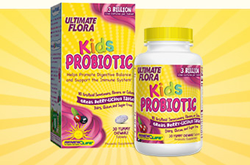 Renew Life carries products that are difficult to find any where else including probiotics for babies and children, fiber supplements in pill form, and probiotics in fun delivery systems like fizzy drinks and gummies
(PRWEB) October 12, 2015
Renew Life, a complete digestive care company that is new to Healthy Vitamins, states this about their supplement line: "Optimum digestive function is not simply about one single category. For this reason, all of our products are formulated specifically with the health of the entire digestive system in mind. Our unique ingredients work synergistically with one another to provide a solid foundation of superior digestive health, and because natural digestive care is our main focus, we are able to devote the time and energy necessary to make the best possible products available today."
Healthy Vitamins is an online health food store that specializes in whole food supplements. Gail Bowman, the owner of Healthy Vitamins, said, "There is so much research out now about probiotics and their affect on every area of the body from brain health to immunity. That is why we are adding Renew Life products to our store. Renew Life carries products that are difficult to find any where else. These include probiotics for babies and children, fiber supplements in pill form, and probiotics in fun delivery systems like fizzy drinks and gummies."
Ultimate Flora Baby Probiotic provides health-promoting probiotics specifically chosen for their prevalence in the digestive tracts of infants and toddlers, including the key B. infantis strain, an important strain of beneficial bacteria in infants.
Ultimate Flora Kids Probiotic is a great-tasting, safe and gentle way to help replenish the balance of "good" bacteria in the intestines to support a growing child's immune system.
Ultimate Flora Probiotic Gummies are a fun and delicious way to replenish good bacteria every day with 2 or 3 billion live cultures per serving. Appropriate for adults or children.
In a recent blog, Renew Life said this about probiotics:
"Many people already know probiotics play an important role in supporting optimal digestion and health. But with so many products to choose from, what factors are important when it comes to choosing an effective probiotic supplement? Here are a few quick basics:
"1. Look at the culture count to determine the strength or potency of a probiotic. Culture count refers to the total amount of live, friendly bacteria cultures in a single serving. Most experts recommend at least 15 billion live cultures or CFUs (colony forming units) daily to make an impact on health.
"2. Pay attention to the number of strains. The strains, or specific types of probiotics, plus the culture count of each should be listed on the label... t makes sense to choose a probiotic supplement that reflects diversity.
"3. Look for lots of Ls and Bs. Scan the label of a good probiotic to find strains that begin with Ls and Bs, such as Lactobacilli and Bifidobacteria."
Gail Bowman can be reached at Healthy Vitamins at 888-244-8948.