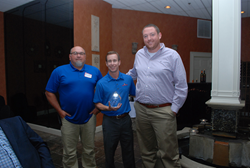 Oakwood, Georgia (PRWEB) October 09, 2015
The dinner event was held at Chateau Elan Winery in Braselton, Georgia with several carriers in attendance and C.H. Robinson, Wayne Farms' strategic logistics partner. Three awards were presented during the event: Technology Award, Customer Service Award and Carrier of the Year Award.
"We are excited to host our first awards banquet to recognize outstanding transport companies that consistently provide Wayne Farms with high level service and seamless transportation," said Aaron Leach, Senior Director of Supply Chain at Wayne Farms. "It is important we acknowledge the tactical resources our carriers provide and show our sincere gratitude for their efforts."
The Technology Award focused on a carrier with true innovation built into their daily operations that enhance performance and lower costs. The award was presented to P&E Transport.
The Customer Service Award was geared toward a carrier that goes above and beyond in servicing both Wayne Farms and Wayne Farms' customers with a sense of urgency and the ability to resolve issues efficiently and quickly with little notice. The winner of this award was R.E. Garrison Trucking.
The highest accolade award given, Carrier of the Year, showcased a carrier who provides unprecedented overall service with regards to customer service, cost-efficiency, safety and is recognized for high standards in the freight industry. This award was given to Circle J. Trucking.
An announcement was made that the 2nd Annual Wayne Farms Carrier Awards will showcase additional awards being added at a later date.
# # #
About Wayne Farms LLC
Wayne Farms LLC is the sixth-largest vertically integrated poultry producer in the U.S. with annual sales exceeding $1.9 billion. A subsidiary of Continental Grain Company, Wayne Farms owns and operates 11 fresh and further-processed facilities throughout the Southeast, produces more than 2.6 billion pounds of poultry products each year, and employs more than 8,900 individuals. Producing products under the brand names of WAYNE FARMS® fresh chicken; PLATINUM HARVEST® premium fresh chicken; DUTCH QUALITY HOUSE® chicken and CHEF'S CRAFT® gourmet chicken, Wayne Farms has a well-known history of delivering exceptional poultry products to some of the largest industrial, institutional, and foodservice companies across America.