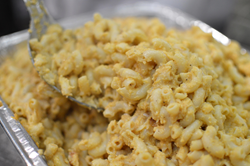 "Quite a few of the guests were completely bowled over by the great flavors, textures, and originality brought by the participants."
New York, NY (PRWEB) October 13, 2015
Leading health-supportive culinary school Natural Gourmet Institute (NGI) hosted a vegan mac and cheese cook-off last week. The event took place at NGI's professional culinary facility located in the Flatiron district, and showcased some of the dairy substitution techniques taught in their professional Chef's Training Program.
During the contest, eight NGI students and alumni (Barbara Vadnais, Olivia West, Ann Nunziata, Amelia Lundy, Camille Lowder, Alyssa Loscalzo, Sara Grizzle and Juliana Brafa) presented their original vegan mac and cheese dishes to a crowd of over sixty people. In place of dairy ingredients in the classic comfort food, contestants used items like cashews, tahini, miso, vegetable stock and eggplants to yield similar results.
Attendees had the chance to sample all eight dishes and vote for their favorite. "It was really great to see our alumni take the skills they learned at NGI to turn a comfort food staple into something vegan and super delicious," says Barbara Rich, Chef Instructor and Career Services Manager at NGI. "Quite a few of the guests were completely bowled over by the great flavors, textures, and originality brought by the participants."
Alumna Sara Grizzle (Owner of Alphabet City's Poco) won first place with a Truffled Mushroom and Smoked Maple Mac and Cheese. Camille Lowder won second place and Alyssa Loscalzo won third. Click here for the winning recipe.
###
Founded in 1977 by Annemarie Colbin, Ph.D., Natural Gourmet Institute (NGI) is the leader in health-supportive culinary education. Natural Gourmet Institute's Chef's Training Program is a comprehensive and professional program that trains students to meet the growing demand for culinary professionals who are able to make the connection between food and health. NGI's interactive and dynamic Certificate Programs are designed to give students first-hand experience and expertise in the areas of Writing for Food Media, Sustainable Meat, Culinary Tours, Culinary Nutrition, Sustainable Farming, and Food Entrepreneurship. Natural Gourmet Institute also hands-on classes and lectures for the healthy cooking enthusiast. On Friday night, the school is transformed into an intimate dining room, where Chef's Training Program students and instructors prepare a three-course vegetarian Friday Night Dinner that is innovative, delicious and beautifully presented. http://www.naturalgourmetinstitute.com