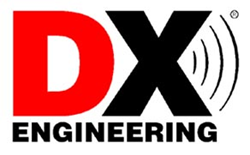 Tallmadge, OH (PRWEB) October 12, 2015
In August, 2016 St. Paul Island will be home to the CY9C DXpedition and nine bold Amateur Operators, as other Hams from across the planet will try to reach the CY9C stations and gain a valuable contact on their quest to earn the DX Century Club award. DX Engineering supplied components to the DXepdition, now offered in the CY9C DXPedition Combo.
St. Paul Island is significant to Amateur Radio operators because it was once home to a Marconi radio station. The station relayed wireless maritime communications during radio's infancy. The island was also given the unfortunate nickname "Graveyard of the Gulf" by early North American sailors, as it is typically wrapped in fog and punctuates a treacherous stretch of undersea rocks. A solar-powered automated lighthouse is now the island's only permanent fixture.
To assist the CY9C DXpedition, DX Engineering supplied its potent Dual-Band Thunderbolt® Vertical Antenna. The 30 foot vertical delivers excellent 40 and 30 meter band coverage with impressive SWR, and will easily handle the full legal power limit. DX Engineering also provided its patented Radial Plate. The plate's stainless steel construction will come in handy when faced with the island's harsh salt spray. 1,000 feet of DX Engineering's RG-8X Coaxial Cable will be used to tie the station together.
The DX Engineering CY9C DXPedition Combo includes:
DXE-4030VA-1 DX Engineering Dual-Band Thunderbolt® Vertical Antenna
DXE-RADP-3 DX Engineering Radial Plate
DXE-UHF-FDFB DX Engineering SO-239 SecureMount™ Bulkhead Connector
DXE-FSM-HWK DX Engineering SecureMount Hardware Kit
DXE-FP-WIRE-P DX Engineering Feedpoint Wire and Connector Assembly
DXE-RADW-32RT DX Engineering Pre-Assembled Radial Wire Kit
Learn more about 2016 CY9C DXpedition at its official website.
DX Engineering
http://www.DXEngineering.com
1-800-777-0703