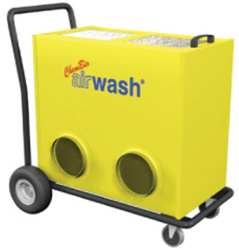 Amaircare has done an outstanding job designing a versatile, high quality commercial air scrubber with the portability of a smaller unit.
Peoria, IL (PRWEB) October 13, 2015
US Air Purifiers, an Illinois based company specializing in residential and commercial air purification systems, is pleased to announce the addition of the new Amaircare 6000V and 7500 Vocarb models to its inventory. These two commercial models are both specially designed to limit exposure to gases and bacteria in large industrial facilities. They can also be used effectively in marijuana dispensaries, police evidence rooms, welding shops, and many other such environments.
Industrial air scrubbers, such as the Amaircare 6000V and Amaircare 7500, are made with the express intention of protecting workers from exposure to dangerous substances. In particular, these models are helpful in reducing workplace exposure to TCE, or trichloroethylene. TCE is an industrial solvent frequently used as a degreasing agent. When airborne in an enclosed environment, the compound can pose substantial risk to human health, having been linked by some studies to both cancer and Parkinson's disease. This, and other airborne compounds like it, can be captured by the use of an industrial air scrubber. The Amaircare units are excellent choices for this application, being capable of capturing 99.97% of particles larger than 0.3 microns in size. These air scrubbers also effectively remove bacteria, fungal spores, and many other dangerous compounds from the air to create a safe and healthy working environment.
The 6000V model is capable of cleaning air in spaces of up to 36,000 square feet, while the larger capacity 7500 model can be used in spaces up to 60,000 square feet. Both are mounted on portable carts, making them easy to move and position as needed. Both also come with a 5 year warranty through Amaircare.
About the Business:
Barb and Dick Lulay's customers are passionate about naturally reducing their risk of disease. Their customer service and product expertise make shopping with http://www.USAirPurifiers.com and http://www.OttersDream.com an ideal experience. With a full line of natural products such as air purifiers, natural supplements, green cleaners, weight management and paraben free skin care, families find they can conveniently do their household shopping online with home delivery. As successful business owners, the Lulays offer a mentoring program for other aspiring entrepreneurs. They present exceptional marketing tools and a training program that shows how to generate immediate income as well as long term passive income.