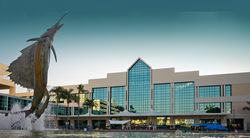 Broward County, Florida (PRWEB) October 10, 2015
The Florida International Trade and Cultural Expo (FITCE) founders are creating this event focused toward import and export experts in South Florida. The partners have, for decades, established themselves as the authorities in leading the way to help ensure South Florida as the place to do business.
South Florida total trade with the world in 2013 was $120.49 billion in goods sourced in the state and the region has more than 60,000 companies registered to export. The founders at FITCE believe it is time to help them take their businesses to the next level and bring new global businesses to the region.
FITCE's objective is to bring 200 International Companies and 400 Stateside Companies that want to establish or expand their business in South Florida. Allied Steel Buildings is committed to help achieve this objective sponsoring the "Doing Business With The World" event.
Since 2007, Allied Steel Buildings has delivered commercial and industrial steel buildings in more than 70 countries, and the company is ready to supply the best prefabricated metal buildings anywhere in the world. During the last eight years, they have developed a professional network across the Americas, Africa, Caribbean and Asia providing clients with a breadth of expertise and knowledge in design, engineering, manufacturing, and project management for prefabricated and conventional steel structures.
The "Doing Business With The World" event will take place at Fort Lauderdale-Broward County Convention Center, and international representatives from 42 different countries have already confirmed attendance. Among them, there will be an exceptional guest, Mr. Leonel Fernández, former President of the Dominican Republic.
For more information about FITCE, please visit http://www.fitcexpo.com.
About Allied Steel Buildings
Allied Steel Buildings, is a recognized leading supplier of high-quality pre-engineered steel buildings and metal building systems. In its more than ten years of experience, the company has developed almost 4,000 different steel projects all over the world, delivering building solutions for diverse industries, from industrial to commercial. One customer and one building at a time.