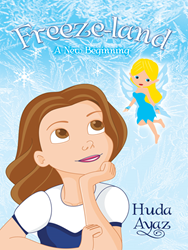 I want to inspire other children that they can do whatever they want, without waiting until they become adults to accomplish their life goals
BROOKLYN (PRWEB) October 12, 2015
Pinterest has taught parents to, at the beginning of each school year, ask their children what they want to be when they grow up. That way, when the children grow into adults, they can see all the dreams they had for their future. Huda Ayaz, a seventh grader in Brooklyn, will not need to rely on such an activity. She will simply take a look at the book she published before she even entered high school.
Freeze-land is a children's story that personifies positive and negative thinking through a young girl who helps a snowflake fairy save the secret planet Freeze-land from the evil Ninstragger, who wants to turn the planet dark and evil.
"When someone thinks positively the environment becomes happy and bright, while negativity makes the environment sad and dark," Ayaz said.
Ayaz started creating short stories in kindergarten, but she never would have imagined herself being awarded by the borough president for her work. Nonetheless, that is exactly what happened this summer when Eric L. Adams recognized her for her achievement with Freeze-land.
"I want to inspire other children that they can do whatever they want, without waiting until they become adults to accomplish their life goals," Ayaz said.
For more information, visit http://www.ayazsisters.com.
Freeze-land
By Huda Ayaz
ISBN: 9781480802698
Available in softcover, hardcover, e-book
Available on Amazon, Barnes & Noble and Archway Publishing
About the author
Huda Ayaz is a seventh grader in Brooklyn, New York, who has been honored for her writing by Borough President Eric L. Adams. She wrote her first book at age 9 and comes from a family of authors, as her father wrote a book in Urdu at age 32, both her sisters have written their own books, and her brother is writing a book as well. Two more books in the Freeze-land series are currently in the publication process. The fourth and final book in the series will soon be complete.
# # #
**FOR IMMEDIATE RELEASE**
For review copies or interview requests, contact:
Jaymie Shook
317.602.7137
jshook(at)bohlsengroup(dot)com