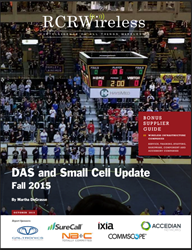 We've found clear benefits and drivers towards centralization and virtualization of the small cell network - Alan Law, Chairman, Small Cell Forum.
Austin, Texas (PRWEB) October 12, 2015
Mobile subscribers are not known for their brand loyalty, and switching carriers has never been easier. The customer decision can hinge on the ability to maintain a high-speed connection in a certain place, like a bus stop, an office building or a sports arena. This reality has carriers looking hard at small cells and distributed antenna systems (DAS), two solutions that have been more successful from a technical perspective than from a financial perspective.
RCR Wireless's DAS and Small Cell Update 2015 explains how the makers of DAS and small cell equipment are innovating to create solutions that can generate a positive return on investment for operators. New network architectures are enabling operators to move some of the most expensive equipment away from the network hot spots.
"Operators see that they can potentially reduce the cost of these technologies by separating the processing from the access nodes," said report editor Martha DeGrasse. "The places that need more wireless capacity the most are typically located on high-value real estate, so moving the large, expensive equipment to a remote location means that processing can take place in a less costly environment."
"If you can move the head-end room away to some cheaper part of the city and run fiber, that's a baseband hotel or a form of C-RAN (centralized RAN)," said analyst Earl Lum, president of EJL Wireless Research. "This is something that can be done today."
This evolution will help the building owners and enterprises who are the ultimate beneficiaries of many DAS and small cell systems. Enterprises will not get the connectivity they need until they start to pay for it, as carriers will not invest to install systems in any but the most highly trafficked venues. So developments that bring down the cost of connectivity are the key to future growth for small cells and DAS. The opportunity is significant.
"Only about 2% of enterprise buildings actually have mobility in the building," said Philip Sorrells, VP of strategic marketing at CommScope. CommScope, the leading vendor of DAS equipment, shares its forecast for the market in this feature report; a number of other industry participants also offer insight.
This report includes insight from Verizon Wireless, Accedian Networks, Galtronics, Ixia, NB+C, Corning, Crown Castle, SOLiD Technologies and from SureCall, maker of cell signal boosters which are becoming an affordable alternative to DAS for many enterprises. In addition, Small Cell Forum Alan Law is featured in this report and is a panelist on the accompanying webinar.
Click here to watch the complimentary webinar.
Small cell testing and network optimization are two key themes explored in this feature report and webinar. The equipment and processes used to test macro network equipment are not cost effective for small cells, and operators are turning to new solutions. Network monitoring can also be more complex in a small cell environment, especially when capacity can shift dynamically to meet user needs.
As mobile subscribers, we will all benefit from deployments of DAS and small cells. Download this complimentary report to learn more about these wireless technologies, forecasts for growth, obstacles and opportunities.
About RCR Wireless News
Since 1982, RCR Wireless News has been providing wireless and mobile industry news, insights, and analysis to industry and enterprise professionals, decision makers, policy makers, analysts and investors. Our mission is to connect, globally and locally, mobile technology professionals and companies online, in person, and now on video. Our dedication to editorial excellence coupled with one of the industry's most comprehensive industry databases and digital networks leads readers and advertisers to consistently choose RCR Wireless News over other industry publications. http://www.rcrwireless.com