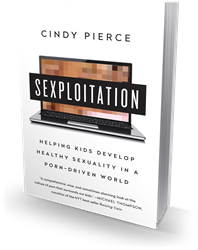 [Porn] is inhibiting healthy sexual relationships and creating potentially dangerous situations.
Boston, MA (PRWEB) October 13, 2015
SEXPLOITATION: Helping Kids Develop Healthy Sexuality in a Porn-Driven World by C indy Pierce (Bibliomotion, Inc.; 978-1-62956-089-2; October 13, 2015).
"Talking with your kids about sexuality creates a connection of health and support for their whole lives. It is never too early to start. If they are asking you questions about sex, it means they believe you are the best resource." – Cindy Pierce, Sexploitation
Distorted images and misinformation about sex are inhibiting healthy sexual relationships and creating potentially dangerous situations. Thirty percent of all the data transferred across the Internet is porn, and it's just one small part of our hyper-sexualized culture that's influencing kids and their perceptions of sex.
While it's often awkward for parents to engage in conversations around the subject of sex, the ultimate goal should be to help kids learn to be discerning and realistic about what they see in the media. The key is to keep having these conversations early and often, until both parents and kids have enough practice to get past the initial feelings of discomfort.
In SEXPLOITATION: Helping Kids Develop Healthy Sexuality in a Porn-Driven World (Bibliomotion, Inc.; October 13, 2015) sex educator and college speaker Cindy Pierce draws from personal stories of young adults who are dealing with daily pressures exacerbated by sex in the media. She provides parents and educators with the tools they need to help kids develop healthy sexual identities.
"In order to impact our kids' personal choices as they go through life, we need to have conversations with them, ideally before they are exposed to media, peers, and the Internet," she says.
The Internet, and online porn in particular, plays a key role in many kids' expectations and misconceptions around sex. In her sessions with groups of college students, Pierce has found that porn not only provides "fantasy fuel" but also serves as a sexual guide for many young people, which is causing confusion rather than clarifying what sex really looks like and how real bodies respond.
"Reconciling the images they see in porn with the experiences they have with a partner is particularly challenging for young men," she explains. "It is clear that we are living in the misinformation age rather than the information age; those seeking information about sex through porn actually know less about true pleasure than previous generations did."
She provides eye-opening facts and figures such as:

The porn industry is bigger than the NFL, the NBA, and MLB combined, and represents a $97 billion business worldwide and a $13 billion industry in the United States
In the United States, the average age at which a boy first views porn is eleven.
The number of sexual acts a boy views while watching porn could easily be in the thousands by the time he has his first sexual experience, or even his first kiss with a real-life partner.
For 90% of men, images are a big source of sexual stimulation.
While porn objectifies both men and women, most of what is viewed degrades women, reinforces role expectations, desensitizes the viewer to violent sexual behavior, creates expectations about how bodies appear and respond, and skews overall sexual expectations.
One in five women will be sexually assaulted on college campuses in the US.
Pierce uses this information to provide explicit steps for parents and educators to open the lines of communication with kids to help them develop healthy sexual relationships, to give them the tools to assess what they are viewing as fantasy and not reality, and understand the importance of trust, communication, and consent.
Cindy Pierce, comic storyteller and sex educator, engages audiences with her message about making healthy choices and navigating cultural pressures amidst a world with confusing messages about sex. Represented by Kirkland Productions, she frequently speaks to groups of parents, educators, and students at colleges, high schools, and middle schools. Her insights on sex education have been featured on NPR's Here & Now. Recently, Cindy has been performing her newest shows, Comfort in the Stumble and Are We There Yet around New England and the Pacific Northwest. She is the co-author of Finding the Doorbell: Sexual Satisfaction for the Long Haul. Cindy and her husband Bruce live with their three teenage kids in Etna, NH, near Dartmouth College, where they own and run Pierce's Inn. You can learn more about Cindy's work at http://www.cindy-pierce.com
An Interview with Cindy Pierce, Author of Sexploitation
Q: What prompted you to write this book?
This book is intended to give parents the courage to take the role as primary sexuality educators for their kids. While adults often feel uncomfortable talking to kids about topics relating to sex, doing so will help ensure that their kids develop healthy ideas about sexuality. One of my primary goals for this book is to make parents feel more confident, even as they stumble through the process of talking to kids about sensitive topics. Parents must trust that if they keep at it, the conversations will get easier and become a normal, expected part of their relationship with their kids.
I have been speaking to parents, educators, and students for eleven years. During that time, it has been increasingly evident that adults are overwhelmed by how the digital age is impacting kids. I have found that parents who are proactive and have conversations with kids early and often about Internet use, sexuality, and drugs and alcohol set a tone for their kids before they reach their teens. Not only is it easier to broach these topics before kids reach puberty, but it also creates an open dialogue that will be easier to maintain through the more challenging (teenage) years.
Q: In chapter one, you write that living in the digital age makes it more difficult for kids to develop their "inner compass" – how is the media, specifically Internet porn, negatively influencing healthy sexual development?
Text, Tinder, and Facebook Message are just a few of the primary catalysts for teen and young adult communication. While communicating "behind the screen" can help shield feelings of insecurity and sexual inadequacy, it also makes it impossible to read and convey non-verbal social skills like body language, voice tone, etc. This is a recipe for miscommunication. These types of misconstrued messages can lead to dangerous situations when teens and young adults do interact face to face, especially when you throw in factors that lower inhibitions, like alcohol, peer pressure, and optimistic arousal.
Internet porn consumption is pervasive, particularly with boys and young men. The average age a boy looks at porn in the US is eleven years old. Porn makes up 30 percent of global Internet traffic over the course of a month (more than Amazon, Twitter and Netflix combined). The amount of porn that boys consume before their first sexual encounter could be in the thousands before their first sexual encounter, or even their first kiss. Porn is not only fantasy fuel, but it is also the primary source for sexuality education for many boys and young men. We need to counter these skewed messages by having conversations about healthy sexuality early and often with our children. Porn is not going away, so it is important to educate our kids early on so that they understand how real bodies appear and respond.
Q: What is your key advice to parents who are struggling to have open conversations with kids about sexual relationships and identities?
Start talking to kids about sexuality when they are young, even if it feels awkward (it will). Don't expect it to go well at first and trust that your kids will get used to hearing about sexuality from you with more practice. If parents expect their kids to have social courage and be able to address uncomfortable topics outside of their family, parents must first demonstrate that their home is a safe place to have these types of conversations.
Gender identity, gender expression and sexual identity are still confusing concepts for many parents. Kids are much more open and accepting. Even though we have come a long way compared to parents of the previous generation, we need to educate ourselves about sexual and gender identities, be vigilant about being respectful publicly and privately, and accept our kids' identities without judgment.
Q: In light of recent alleged assaults on both high school and college campuses, what advice can you give to administrations regarding the implementation of Affirmative Consent? What are some ways that students are taking action against sexual violence?
My number one piece of advice to high school and college administrations is this: address the contributing factors to sexual assault – directly and clearly.
When I speak to students, I use real stories from their own generation to address the factors that contribute the most to miscommunication: acceptance of the hookup culture, normalized excessive drinking, sense of entitlement, porn culture ( including internet porn, glorified sexual violence in porn and games, marketing and media messages). In the digital age, we live in a more connected world than ever before. But our hyper-sexualized culture presents a skewed view of what safe, healthy sex really looks like, leading to confused, misinformed teens with unrealistic expectations.
In light of recent events, high schools and colleges are being more proactive in educating faculty, staff, and students about consent and sexual health. Campuses are running workshops and hosting speakers and events to discuss consent in a wide variety of formats:
Requiring bystander behavior workshops
Viewing films like The Hunting Ground to spread awareness
Hosting events sponsored by campus health centers or organizations like "Sexperts"
Spreading information via social media, posters (Stall Street Journal is a common one), and mass emails to students and parents
Holding orientation workshops emphasize drinking in moderation or not at all
Choosing sexual partners carefully, and using condoms
Offering workshops on intervention and bystander training to incoming students, members of sports teams, organizations, sororities, and fraternities
Here are some things high school and college administrations need to do better:
Implement more student-run groups to raise awareness, like Mules Against Violence and Party With Consent at Colby College.
Require more consent and bystander training and awareness education on campuses for students, faculty, staff, teams, and organizations. Help students develop a toolkit to intervene.
Use role-playing to ingrain the concept and the language of affirmative consent.
Administrations must update and reevaluate how they handle sexual assaults and do everything possible to make students feel safe and respected during the reporting and legal
processes that follow.

Follow through with consequences for people who are found guilty of sexual assault.
Q: When talking to students, what are the most common misconceptions that arise around sexual realities and expectations?
Here are some common questions I hear from heterosexual boys and men. You may assume they are asking me these questions to shock me or impress their friends. I can assure you that after they have heard my presentation, they recognize that if they can muster the courage to ask a question, they can get straight answers they thought they were supposed to figure out on their own. They are almost always nervous when they ask, but I assure them that I hear these same questions from guys of all ages.
"I read Fifty Shades of Grey. I know what women like." – age 14
"Why do you think women like to be raped?" – from many boys and young men in high school and college
"Why do women always ask you to choke them or hit them? It doesn't do much for me, but I don't want to miss out on getting laid." – age 21
"It seems like all women like anal sex. I think it would hurt. Whatever, I'll do that." – age 19
"So many women like to have guys ejaculate on their face. It seems weird, and I can't even do it like they do in porn. What do they like about that?" – age 22
"I want to ask her what she likes, but I think I am supposed to know." – age 21
"I am not interested in hitting or choking my girlfriend. Believe me, I brag about it to my friends because they are impressed by that stuff. And I do it because she asks, but now I think she does it because she thinks I like that kind of sex." – age 22
Questions from girls and women:
"Why do guys always want to have anal sex?" (25 other sophomores in high school nod in agreement) – age 15
"Even when I repeatedly push his hand away and firmly tell him I don't like to be choked, he keeps trying to choke me during sex." – age 22
"If I don't send a nude picture, it seems like he will look at porn instead." – age 17
"I have had intercourse, given oral sex, had anal sex, had a threesome, but I have never had an orgasm." – age 16
"I fake orgasms because the sooner he stops pounding me, the better." – age 19
"If he asked me what turns me on, I would tell him everything, but I don't want to hurt his feelings." – age 22
Mostly, porn skews expectations about how bodies appear and respond. Both young men and women tend to have genital image issues either from comparing themselves to what they see in porn (surgically altered penises and vulvas) or because they get feedback from partners. Many young women have mentioned that their partners told them their vulvas didn't look normal because they had pubic hair, were too flappy, and not the right color. Reaching kids before their expectations get off track is key.
Praise for Sexploitation
"Pierce cites a wide range of problematic media-driven issues for kids (e.g., hypersexualized female body images, violent masculinity) and urges parents to enter into the dialog to give their children alternative ways to behave and think. While Pierce points out seemingly insurmountable pressures on today's youth, she devises a workable plan for guiding them toward healthy life choices." — Library Journal
"Cindy Pierce's new book, Sexploitation, is a comprehensive, wise and sometimes alarming look at the culture of porn that surrounds our kids. Pierce is a straight talker on the subject of sex; she is also a compelling writer and she makes a strong case that parents have to be brave and to talk to their kids before the Internet introduces them to sexuality. Her book will help parents to find that courage." – Michael Thompson, coauthor of the NYT best-seller Raising Cain: Protecting the Emotional Life of Boys
"For every parent who's ever panicked about having 'the talk' with their child, Cindy Pierce has created a frank, honest resource to help -- and more importantly, a reminder that this isn't a 'talk' at all but rather a conversation that evolves as our boys and girls become responsible, sexually active young men and women." – Jodi Picoult, NYT bestselling author of Nineteen Minutes and My Sister's Keeper
"As parents, we wish our kids will grow up to have happy, healthy sex lives. Just 'wishing' won't help. We need to talk with them, otherwise their sex education will come from popular culture and the internet. Whether we like it or not, all teens, even preteens have to confront pornography. Cindy's book will help parents find our voices to discuss challenging topics that weren't part of our own growing up." – Dr. Michael L. Lyons MD, Assistant Professor of Community and Family Medicine at Geisel School of Medicine at Dartmouth College
"Here's a guide to having meaningful conversations on 'the other side of awkward' with our teenagers so that these young people we love so much might be safer and happier. Who doesn't need that?" – Kelly Corrigan NYT bestselling author of Glitter and Glue, Lift, and The Middle Place
"Sexploitation: Helping Kids Develop Healthy Sexuality in a Porn-Driven World is a phenomenal conversation on how to help our children develop healthy sexual and social relationships within themselves and others. Cindy is raw, real, and fantastic. Her approach will leave you educated and empowered - ready to have comfortable, adult conversations with your children." – Stacy Nadeau, professional speaker, coach and Dove model
"Cindy Pierce's Sexploitation is a searing analysis of how hyper-sexualized messages in pop culture harm our children's emotional lives. She weaves her experiences together with the stories of others, compelling data, and expert advice to offer practical advice for developing healthy social and sexual relationships. This book is a must-read for parents who are concerned about their children's happiness in a society saturated with social media and porn." – Caroline Heldman, Associate Professor of Politics, Occidental College
"Cindy Pierce takes direct aim at the place where the Tsunami of our Culture and the Heart of our Humanity intersect. Her straight talk on the importance of having conversations with our teens about how to manage the bombardment of messages from the mass media while defining their own moral (inner) compass is a helpful guide for families." – Julie Metzger RN, MN Co-founder, Great Conversations http://www.greatconversations.com
About Bibliomotion
Bibliomotion is a book publishing house designed for the new publishing landscape. While many publishers work to retrofit old processes for new realities, Bibliomotion was founded by book-industry veterans who believe the best approach is a fresh one – one that focuses on empowering authors and serving readers above all else. Moving away from the top-down model that has dominated the publishing process for years, we give each member of the team – including the author – a seat at the table from the very beginning and in doing so, work side-by-side to launch and sell the best content possible, making it available in a variety of forms.