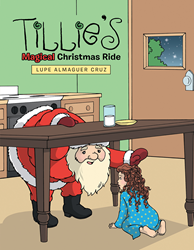 SAN DIEGO (PRWEB) October 13, 2015
Imagine a world with no Christmas. For Lupe Almaguer Cruz, celebrating Christmas only occurred in her dreams.
Cruz was one of eight siblings born to migrant working parents that constantly traveled in order to work. Beginning at 5-years-old, Cruz and her siblings labored in the fields making education inaccessible and Christmas presents and decorations simply out of reach. It wasn't until Cruz was 7-years-old that she first heard of the legendary Christmas figure, Santa Claus, and that night she had a magical dream that she met him.
After many years of thirsting for knowledge, Cruz accomplished her goal of teaching herself how to read and write English. Today she turned that 7-year-old girls dream into an adventurous children's Christmas book.
"Tillie's Magical Christmas Ride" brings to life a young girl's imagination and a Christmas ride as Santa's helper that shows readers the true meaning of the holiday.
"Tillie's Magical Christmas Ride"
By Lupe Almaguer Cruz
ISBN: 978-1-4808-1085-3
Available in softcover, hardcover, e-book
Available online at Amazon, Barnes & Noble and Archway Publishing
About the author
This is Lupe Almaguer Cruz's first children's book. Spanish is her first language, but at the age of 59 she taught herself how to read and write English above a 3rd grade level. Today Cruz is an accomplished woman holding a license in foster care and real estate, and is a real estate investor.