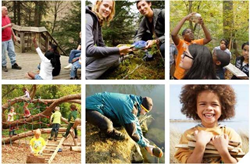 "I believe our generation does not see activism just as a necessity or obligation, but a beautiful opportunity to invent the unexpected and to spread our optimism that we can make a better world." - Ta'Kaiya Blaney
San Diego, CA (PRWEB) October 12, 2015
A new wave of game-changing voices in environmental education, an inspiring corporate luminary leading the charge in diversity and inclusion, the connections between environmental education and social justice movements, and the transformative power of story-telling are among the highlights at the 44th annual North American Association for Environmental Education (NAAEE) conference to be held Oct. 15-18.
This year's proceedings will be held in San Diego, California – an area described by many scientists as one of the most distinctive North American conservation 'hotspots' because of its rich biodiversity. With more than 175 workshops, symposiums, presentations, and poster sessions, this conference is the largest gathering of environmental educators in North America.
This year's conference focuses on six professional development strands, designed to promote and share best practices, innovative programming, and the latest research being conducted around the world. These strands include Conservation and Education; Environmental Education in Urban Settings; Greening PreK–12, Higher Education, and Vocational Training; Inspiring Connections to the Outdoors; Research-Based Practice in Environmental Education, and Teaching About Environmental Issues and Systems Thinking.
NAAEE's keynote speakers for the daily plenary sessions underscore Building a Stronger and More Inclusive Movement, the conference theme. Opening day (Oct. 15) features Steve Pemberton, an orphan raised in foster homes who has blazed a new path in corporate diversity and inclusivity at the executive level as the first chief diversity officer, first for Monster.com and currently for Walgreens.
Highlighting the second day (Oct. 16) will be a distinguished panel that includes Harry Boyte, founder of the Center for Democracy and Citizenship at the Humphrey School of Public Affairs; Hahrie Han, a specialist in social policy politics at the University of California, Santa Barbara; Jackie Ogden, vice president of animals, science and environment for the Walt Disney parks and resorts and a specialist in animal behavior, and J. Drew Lanham, a Clemson University wildlife ecologist who specializes in songbird conservation and the African American land ethic and its role in natural resources conservation. Allison Chin, a long-time prominent Sierra Club official who served two terms as president of its board of directors, will be moderator.
Day Three (Oct. 17) will feature Andy Goodman, a nationally known presenter of workshops on storytelling and strategic communications at many high-profile venues including Harvard's Kennedy School of Government, the Woodrow Wilson School of Public Affairs at Princeton, and at major conferences across North America.
The conference closes (Oct. 18) with Game Changers Under 25: What Can We Learn? featuring young environmental and social justice activists from the U.S., Canada, and Mexico. Juan D. Martinez, Children & Nature Network's director of leadership development and the Natural Leaders Network, will serve as moderator. Panelists will be Ta'Kaiya Blaney, a teen environmentalist and singer from the Tla A'min First Nation in Canada's Powell River region and ambassador for Native Children's Survival, and David Richard Flores, a teen journalist who writes for the Guadalajara newspaper Proyecto Diez about culture, politics, and social movements and works with Lexicon of Stability's Project Localize, which promotes environmental awareness through visual art and culture. Also participating will be Vincent Culliver, an instructor for Outdoor Outreach, a San Diego-based nonprofit that works to connect youth to outdoor recreation and education, and Charles Orgbon III, CEO and founder of Greening Forward, the largest youth-centered environmental nonprofit in the U.S.
NAAEE's 12th annual Research Symposium (Oct. 14-15) centers on exploring the latest environmental education research and how to leverage the most successful practices in various educational and research settings. The symposium will bring more than 170 new and experienced researchers from around the globe for presentations. The symposium keynote will feature two exemplary researchers: Nicole Ardoin, an assistant professor in the Stanford University Graduate School of Education and Woods Institute for the Environment, and Joe Heimlich, a principal researcher at the Lifelong Learning Group and professor emeritus at The Ohio State University. Their topic is The Importance of the Incidental: Environmental Learning in Everyday Life.
Gold-level sponsors for the NAAEE conference and research symposium include the U.S. Forest Service, U.S. Environmental Protection Agency, Howard Hughes Medical Institute's BioInteractive, San Diego Gas and Electric, and EECapacity.
The conference home will be at the Sheraton San Diego Hotel & Marina (1380 Harbor Island Drive), recognized in the industry for its innovative green hotel management practices. For conference information and registration, see http://www.naaee.net/conference.
See the following NAAEE San Diego conference preview features:

Contact: Christiane Maertens, Deputy Director
Telephone: 310-279-7370
Email: cmaertens(at)naaee(dot)net
Photos and conference preview features
###
About NAAEE
The North American Association for Environmental Education is a pioneering membership organization dedicated to accelerating environmental literacy and civic engagement through education. NAAEE supports a network of more than 20,000 educators, researchers, and organizational members working in environmental education in more than 30 countries through direct membership and 54 regional affiliate organizations. Through community networks, publications, signature programs, and eeNEWS and eeJOBS, NAAEE provides programming and resources for professionals working in all areas of the field. For more information, visit http://www.naaee.net.