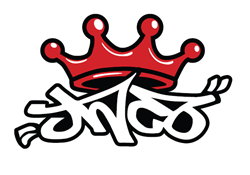 "The excitement from the fans is contagious."
Los Angeles, California (PRWEB) October 12, 2015
Due to popular demand, JNCO Jeans announced the long-anticipated return of their groundbreaking denim line. As an iconic brand of the 1990s, JNCO embodies the best aspects of Southern California counterculture. JNCO was revived in early 2015 with modern, forward-thinking designs, but the fans demanded a throwback. Inspired by a groundswell of support and enthusiasm from devoted fans, the launch of the heritage line marks a return to JNCO's roots of comfortable skate-inspired street fashion. In addition to the iconic wide-legged jeans, the new launch also includes vivid graphic tees and bold graphic hoodies. The new line is currently in the preorder phase and will soon be available online at JNCO.com and through trusted online retailers such as Amazon, and in select stores.
Of the launch of the new line, JNCO's Chairman, Isaac Cohen said, "the excitement from the fans is contagious. We really listened to the fans and we don't want to let them down. Making a product that they love is what motivates us." JNCO's Designer, Joe Peters concurs, adding, "what the people want, the people get! It really helps that our jeans are timeless. Whether you wore them in the 90s or are waiting for the new collection to be released, they're going to be just as fresh and just as comfortable to wear."
JNCO men's apparel strikes a note with its audience because the products are well-made yet price-conscious. The new release includes jeans, graphic tees, and graphic hoodies. Select other products including snapback hats and beanies will still be available for purchase.
Also stayed tuned for an exclusive line of assets available just in time for the upcoming holiday season, including eye-catching "Ugly Christmas" sweaters.
About JNCO: JNCO is an American jeans brand. Founded in 1985, JNCO evolved into a global force as a leading lifestyle brand in the 1990s. JNCO was revived in early 2015 to connect today's youth with bold, forward-thinking fashion inspired by SoCal culture. "JNCO sets to defy the rules of street wear and re-establish a brand and aesthetic that is purely in a class of its own."