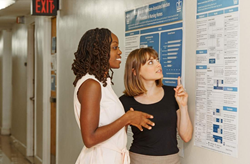 These figures drive home what has long been known to most nurse researchers: grant writing exacts a major time commitment by nursing faculty and staff and costs to the school," said the study's lead author, Kristine Kulage, MA, MPH
New York, NY (PRWEB) October 12, 2015
In the first known study of its kind, researchers at Columbia University School of Nursing have found that individuals involved in nursing research spent as much as the equivalent of four 40-hour weeks and $270,240 in faculty and staff salary and associated costs preparing and submitting a single successful National Institutes of Health (NIH) grant application for funds to conduct their research.
In the study, published online September 21 at Nursing Outlook (in press), the Columbia Nursing team recorded time spent and calculated costs in grant preparation by principal investigators and research administrators at Columbia University School of Nursing for four NIH grant applications. They found that per grant, investigators' time ranged from 69.8 hours to 162.3 hours and administrators' time ranged from 33.9 hours to 56.4 hours, while costs ranged from $4,784 to $13,512. Costs include salary, fringe benefits, and reimbursable overhead such as heating, lighting, maintenance, and operations.
"These figures drive home what has long been known to most nurse researchers: grant writing exacts a major time commitment by nursing faculty and staff and costs to the school," said the study's lead author, Kristine Kulage, MA, MPH, director of research and scholarly development at Columbia Nursing. "Our study points to the need for more efficient models of obtaining nursing research funding."
The largest amount of time spent in grant preparation was in the writing/revising/formatting category. (NIH submissions typically exceed 100 pages.) Second was researching (including statistical research and reviews of the literature) and attending meetings. Third was completing application packages and forms.
The range in costs found by the Columbia Nursing researchers is largely attributable to varying national average salaries for investigators based on their rank, e.g. doctoral student, senior faculty member. The highest putative cost, $270,240, was derived by assuming a successful funding rate of five percent and the $13,512 cost of submitting a grant found by the Columbia Nursing investigators. Assuming the NIH funded the full amount requested, a typical three-year grant with a budget of $250,000 direct costs per year and an overhead rate of 52.4 percent results in total funding of $1,143,000, with costs to the submitting school of $270,240 to ultimately secure the funded application. (For every 20 submissions averaging $13,512, 19 are not funded.)
"Our findings originate from work being done at Columbia, a research-intensive academic health center," said co-author Kathleen Hickey, EdD, associate professor of nursing. "We have 64 NIH grants underway and annually submit an average of 53 applications. If time and financial commitments are this large with all of our experience, imagine how significant they are at schools with much less experience."
In their conclusion the authors write: "Times such as these call for new models of funding and conducting research that are … more efficient and effective. Rethinking and re-envisioning … research and academic productivity will require involvement at all levels of the system including governmental funding agencies and policy makers, professional organizations and other funders, academic institutions, and individual faculty members."
Other Columbia Nursing co-authors are Rebecca Schnall, PhD, assistant professor; Jasmine Travers, PhD student; Kerri Zezulinski, director of the Grants Management Office; Franklin Torres, senior grants manager; Janine Burgess, grants manager; and Elaine L. Larson, PhD, associate dean for research.
###
-30-
Columbia University School of Nursing is part of the Columbia University Medical Center, which also includes the College of Physicians & Surgeons, the Mailman School of Public Health, and the College of Dental Medicine. With close to 100 full-time faculty and 600 students, the School of Nursing is dedicated to educating the next generation of nurse leaders in education, research, and clinical care. The School has pioneered advanced practice nursing curricula and continues to define the role of nursing and nursing research through its PhD program which prepares nurse scientists, and its Doctor of Nursing Practice (DNP), the first clinical practice doctorate in the nation. Among the clinical practice areas shaped by the School's research are the reduction of infectious disease and the use of health care informatics to improve health and health care. For more information, please visit: http://www.nursing.columbia.edu.