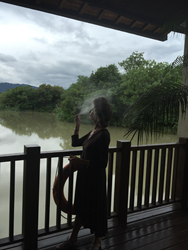 Grants Pass, OR (PRWEB) October 13, 2015
Breathing is one of the human body's most unconscious and reflexive activities. Yet most people do not breathe correctly. According to T'ai Chi (also spelled "Taiji") and Qigong Grand-masters Steven Aung, MD, Effie Chow, PhD, and Instructor Steve Lauer, learning to breathe correctly, in concert with the 7,000 year old tradition they teach, can improve health, increase energy and prolong life. Lauer describes correct breathing as "the single most important thing one can do to improve their health."
Kleyne interviewed Dr. Aung on the Sharon Kleyne Hour® Power of Water® radio show of October 5, 2015. Dr. Chow and Lauer have also been frequent quests. For podcasts of past shows, go to http://www.SharonKleyneHour.com.
The syndicated broadcast, hosted by Kleyne since 2007, is heard weekly on VoiceAmerica (Health and Wellness and Variety channels) and Apple iTunes. The show is sponsored by Bio-Logic Aqua® Research – Water Life Science®, founded by Kleyne and specializing in fresh water, the atmosphere, evaporation and dehydration. Bio-Logic Aqua® Research's signature product is Nature's Tears® EyeMist® for dry eyes.
Steven Aung, MD, is a T'ai Chi and Qigong grand-master who heads the Integrative Medicine Institute at Canada's University of Alberta. Effie Chow, PhD, is a T'ai Chi and Qigong Master who founded San Francisco's East-West Academy of Healing Arts and was appointed by President Clinton in 2000 to the White House Commission on Complimentary and Alternative Medicine. Steve Lauer is a respected Qigong and T'ai Chi Instructor from Chicago, who has studied and taught for 22 years. He is also owner of Sugarstone Appraisals.
Breathing is the body's primary life source interface with the surrounding atmosphere, Aung, Chow, Lauer and Kleyne agree; and water vapor is the conduit between the two. That makes breathing and water vapor the two most basic necessities to sustain life on Earth. Lungs could not absorb oxygen without water vapor, Kleyne notes. Eyes and skin also "breathe" and also absorb water vapor and oxygen from the atmosphere. Lungs are the body's primary means of flushing toxins and waste, after the skin surface, urinary tract and bowels.
Every activity is performed with more control and energy, less stress, and greater harmony and centeredness when correct breathing technique is applied, says Lauer. The greater the skill and mastery one has over their breathing, the healthier and more successful they will be. The difference can be felt from the very first correct breath, Chow adds. Because T'ai Chi, which is one of thousands of forms of Qigong, is a martial arts discipline as well as a holistic body and health discipline, its exercises also improve the ability to execute controlled martial arts movements.
Correct breathing, according to Aung, Lauer, and Chow, is slow and deep and done with the entire body, especially the diaphragm. Infants are born with the ability to breathe correctly, Lauer notes, but this is quickly lost as the child grows.
Breathe slowly in through the nose, Kleyne suggests, then pause for a couple seconds and exhale through the mouth. Breathing is primarily a balancing exercise, Aung adds. Like the ocean surf, inhaling draws life energy in, the pause allows it to absorb, and exhaling expels waste and prepares for the next breath.
A good cleansing breath, according to Chow, should take about 20 seconds; 10 seconds to inhale and 10 seconds to exhale. For most people, a breath lasts only three to five seconds. Aung recommends a minimum of 20 minutes per day of deep breathing exercises. The more one practices, the greater the benefit will be, says Lauer.
There was total agreement on the benefits of drinking pure water each and every day. The body does not expend nearly as much energy flushing and eliminating water as it does, for example on flushing energy or caffeine drinks. Lauer recommends avoiding energy draining drinks and foods. Energy drainers are easily identified, Kleyne notes: They are foods we know are bad for us because they are hard to digest or because of high sugar, fat, cholesterol, caffeine or alcohol content.
Kleyne recommends eight full glasses of pure water per day (64 ounces), in addition to all other fluid intake. Tea, non-sugared juices and water with vitamins or slight flavoring added are excellent choices to supplement one's daily water. Caffeine, sugar, alcohol and carbonation are dehydrating and cause the body to lose water.
The objectives of T'ai Chi and Qigong, everyone agrees, are balance, control and harmony of the body, mind and spirit. Chow observed that Western medicine can perform miracles for a broken body but that traditional ancestral teachings are just as important to maintain balance and harmony. It was agreed that each individual must take responsibility for their own health before symptoms develops.
The same balance and harmonious energy, Aung observes, could also be used to bring the world together in compassion and loving kindness.
© 2015 Bio-Logic Aqua® Research – Water Life Science®. All rights reserved.