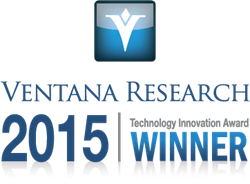 Rockville, MD (PRWEB) October 12, 2015
Ryft, the performance leader in data search and analysis, today announced the company was honored by Ventana Research as the 2015 Technology Innovation Award winner in the Operational Intelligence and Internet of Things category. The Ryft ONE is the first 1U-sized high-performance data analysis solution that analyzes up to 48TB. Ryft ONE delivers this unprecedented performance without the need for data movement, indexing and transformation, making it essential to power real-time applications such as financial compliance, retail operations, cyber and fraud detection, video surveillance and a broad range of other use cases.
The easy-to-deploy and maintain, fully open Ryft ONE platform fits seamlessly into any existing data center environment. It can also be deployed at locations closer to the source of data collection to mine instant insights from IoT sensors, customer data, video cameras, point-of-sale systems and other sources. The Ryft ONE slashes the typical data pipeline from months or weeks to seconds by eliminating time-consuming and costly bottlenecks associated with setting up complex Hadoop or Spark-based clusters, creating increasingly complex algorithms and tuning performance, as well as with moving, transforming and indexing data. It then efficiently performs complex analysis on massive quantities of raw data in microseconds by packing the power of more than 100 high-speed servers into a 1U device that consumes less power than a hair dryer.
"Congratulations to Ryft for its technological innovation in empowering real-time applications through its high-performance analytics and processing," said Mark Smith, CEO and chief research officer of Ventana Research. "Ryft has changed how organizations can leverage real-time events and streams to be actionable to truly optimize any range of business and IT performance through data and analytics—the importance of which is critical for operating a new generation of Internet of Things environments where operational intelligence is critical to maintaining the highest levels of performance."
"Efficiently leveraging real-time intelligence to compete is what separates the winners from the losers in business today. Until the Ryft ONE, the extreme latency associated with sending critical data over the network to be analyzed by complex analytics clusters left businesses virtually flying blind. With our unique ability to analyze both archived and streaming data together without indexing, we give our customers the fastest and most efficient access to the actionable intelligence they need to win from a small 1U footprint," said Des Wilson, CEO of Ryft. "We are pleased and very appreciative that Ventana Research has recognized the value the Ryft ONE innovation is delivering to our customers and the market. It's a direct result of the hard work and dedication the entire Ryft team has invested in building this best-in-class solution."
The Ventana Research Technology Innovation Awards are presented to pioneers that have developed clear visionary and transformative technology. As part of the scoring process and methodology, Ventana Research analysts evaluated not only the technology's innovative approach but also how it applies to people, processes, information and technology; the best practices it supports; the degree of team involvement; and its business impact and value.
To learn more about the Ventana Research Technology Innovation Awards and why the Ryft ONE is the 2015 Winner for Operational Intelligence and IoT, sign up for the October 16th webinar being hosted by Ventana Research:
http://ww2.ventanaresearch.com/2015VentanaResearchInnovationAwardsWebinar.html.
About Ryft Systems Inc.
Ryft unlocks actionable intelligence from big data with the world's fastest and most efficient Linux server for data analytics—the Ryft ONE. The super-fast, simple and scalable Ryft ONE is the only product purpose-built to analyze any type of data—historical and streaming, structured and multi-structured—together at speeds that are 100X faster with 70% lower total cost of ownership (TCO) than any other platform. For more than a decade, Ryft has delivered small, high-efficiency real-time data analysis products that instantly process massive amounts of complex data. Based in the Washington, D.C. area, Ryft innovations have enabled the world's largest and most sophisticated users of big data to unlock actionable intelligence with unprecedented speed, simplicity, scalability and security.